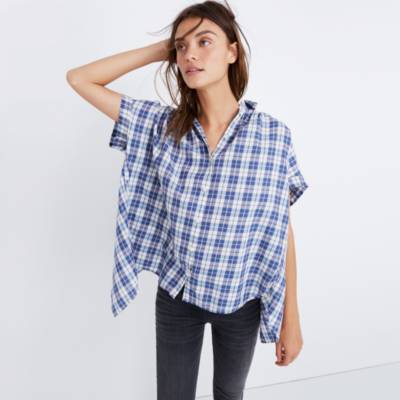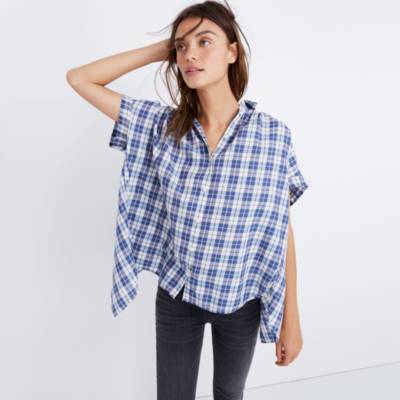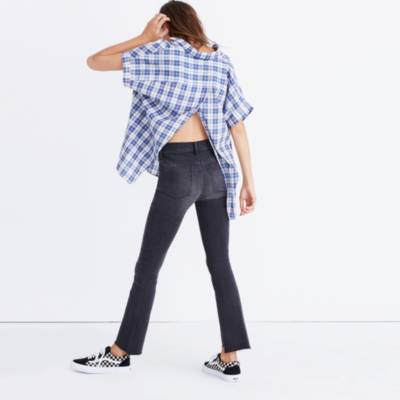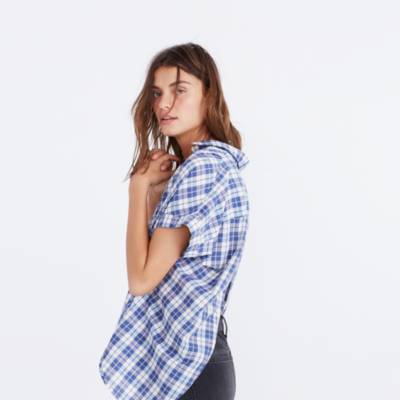 Product Details
Our best-selling shirred shirt gets even cooler with an overlapping open back that reveals a subtle touch of skin. A feminine take on a classic button-down in a timeless blue plaid.
Slightly oversized fit.
Cotton.
Machine wash.
Import.
Central Open-Back Shirt in Linus Plaid
Central Open-Back Shirt in Linus Plaid
is rated out of
5
by
13
.
Rated

5

out of

5
by
Triplea
from
Love this style!
Picked this up at my local Madewell store and it rocks. The opening in the back is super unique and it has a nice oversized fit. Purchased a medium, normal size, because I like how oversized it is.
Date published: 2017-09-30
Rated

5

out of

5
by
herculeslover
from
Supercute, unexpected!
This shirt was cute & easy to pop on with jeans, leggings so i snagged it....said it ran oversized, so i grabbed a size down from my usual small. Perfect fit, still blousy, flowy, etc. I will say it exposed more of my back than i was expecting but Im ok with that---it was breezy and light. The reason I'm writing the review: people stopped me left & right, complete strangers-- to tell me how adorable it was, where did i get it? Did I alter it? Even my own HUSBAND said, " That's so different! You see so much clothing that just looks the same! Very pretty!" Sold, Ladies!
Date published: 2017-09-17
Rated

5

out of

5
by
Atlanta
from
Lovely plaid
I love Central shirts and this one doesn't disappoint in blue/ cream plaid with a soft silky drape. I wasn't prepared for how open the back is though. I thought maybe the pictures were an exaggeration but they are accurate. The shirt is cut up the back like a hospital drape and causes all the material to fall forward in an unflattering way. Undeterred (particularly since this is final sale), I lined up the seams in the back and stitched it closed as best I could. There is still a wedge shaped piece that is cut out from the shirt and won't overlap, but it is far enough down that I can tuck the ends in and it's not noticeable. Now it looks like a normal Central shirt, and I love it!
Date published: 2018-05-10
Rated

5

out of

5
by
Jordan123
from
So adorable
I wore this under a sweater and it was so cute, and when the sweater came off it was even cuter. Great fabric - super classic. The back opening adds a little flair. Consistent with Madewell quality. I was pleasantly surprised with the quality considering the price.
Date published: 2017-11-07
Rated

5

out of

5
by
tal5041
from
Great top!
This top is so fun and different! I took my normal size Small (32D, 5'7, 140lbs) and this fit fine. Most of these shirts do ride back due I think to my shoulders being a little broader than how the shirt is sewn, however, it's not a deal breaker for me as I just pull it down in front when it rides up. The open back is also a nice detail.
Date published: 2017-10-02
Rated

4

out of

5
by
Amber436
from
Great hanging around the house shirt.
I wear this on my daily chores and also wear under a sweater.
Date published: 2017-10-07
Rated

3

out of

5
by
JenniferSage
from
Hmmm...
I love Madewell's Central shirts. I mean LOVE. I must have around ten of them at this point. I picked this one up on sale in my usual size, XS. It's... interesting. I like the idea of an open back but, as other reviewers have mentioned, it is OPEN. This causes it to hang kind of awkwardly in the front & sides. Since it's a loose, flowy fit to begin with it ends up just looking kind of sloppy. I love the material & plaid print of this version, so I added some small stitches to the top few inches of the back flap to keep it a little more in place. It's still open but looks much better IMO and it doesn't "travel" on my body, which is also what was happening. (Like it would just kind of move down & forward & need constant adjusting as I walked.) I don't mind having to do a little DIY so if you don't either, I'd say go for it while it's on sale and try closing the top a bit (fabric glue would also work). You can definitely size down in this one, too - I kind of wish I had gotten the XXS.
Date published: 2017-09-30
Rated

3

out of

5
by
Sunnygirl
from
Cute, classic Madewell
I like this shirt a lot. And I really love Madewell. However, I was only able to buy this because I saw it in person in a store. What is up with the ecomm photography? It is the WORST. Every detail is the worst. It is literally a miracle you're still in business. Get it together, people.
Date published: 2017-09-20
Rated

3

out of

5
by
AnastasiaV
from
Beautiful print, weird design
The print is beautiful. Unfortunately, the open back is not very flattering at times and I need to wear a tank top underneath to prevent my whole back from being exposed when I move around. I bought this thinking there were buttons or some option for closing up the back (my fault for assuming and not reading the description clearly enough). The shirt pairs well underneath a jacket and still looks okay worn by itself. I'm really glad I bought this on sale and did not pay full price for it though.
Date published: 2017-10-16
Rated

3

out of

5
by
heyjen
from
great camp shirt but open back is a little tricky
I got so many compliments on this shirt when I wore it with a denim jacket. The camp shirt style and fit are really great but I didn't love how open the back was. The light woven fabric makes the open back fall forward and you feel pretty exposed. I am thinking of tacking the back opening together at the natural waist to make it easier to wear.
Date published: 2017-10-12