WHAT ARE YOU MADE OF?: OUR CHAT WITH ANTONI POROWSKI
Posted on Feb 9, 2022
Okay, we'll get this out of the way: in person, Antoni Porowski isn't as lovely and adorable as he seems on TV. He's even more lovely and adorable. Hard to believe, right? But spending a day on set with the author, chef and dog fanatic gave us no choice but to set the record straight. And it's not the only thing we learned about our spring campaign star. From his perfect day to the thing he hates most about his job, read on to get to know (and love) Antoni a little bit more.
Hi Antoni! Can you tell us how you got involved in our spring campaign?
I'm on an endless pursuit of perfection for finding the best tees and denim out there. And just as I started gravitating to a slightly looser fit for my jeans, Madewell reached out to collaborate. Your denim is fitted, but has the right amount of give to feel comfortable, so I fell in love instantly.
Our design team will be so happy to hear that!
And they're so comfortable without sacrificing style, which is important to me. They're great for a walk to the park with my dog or a night out in the city.
We'll be sure to pass all that along. Switching gears a little, what are some of the hard parts of your job, and on the flip side, what brings you the most joy?
Saying goodbye to a hero and their family after having spent a week getting to know them is the hardest part. It never feels like I've had enough time. But I love that I get to do so many things, from cookbooks to speaking engagements, to traveling wherever Queer Eye takes me, to meeting new individuals who just want to be better people. I'm so damn lucky.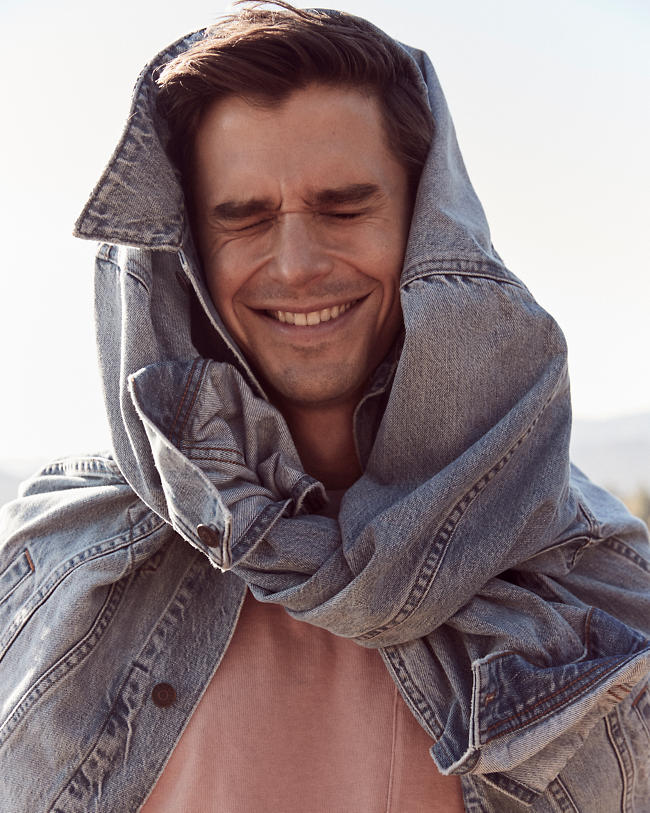 What a great answer. Okay, in the spirit of this campaign, we want to do a little lightning round of questions about what you're made of. First up, what's your go-to coffee order made of?
Black cold brew, unsweetened. Stumptown or La Colombe, to be precise.
We appreciate the precision. What's your best day made of?
Sitting on the couch with my boyfriend and dog, or being out in the woods with them.
And what's your perfect meal made of?
Spring is all about awakening, so I love seeing ramps and produce pop up at farmers markets. I like to play with salads as meals. Grill a piece of fish or meat, make a killer vinaigrette with an unexpected ingredient like pomegranate juice, toast some nuts, add fresh greens and shaved veggies, and there it is.
Thanks, Antoni! Check out all the looks from his risk-taking shoot here. And don't forget, we want to see what you're made of. Take a pic in your Madewell best and share it on Instagram. Tell us three to four things that make you who you are—from the silly to the serious to the surprising—in the caption, plus tag @madewellmens and use the hashtag #everydaymadewell. Can't wait to see what you're made of!