WHAT ARE YOU MADE OF?: OUR CHAT WITH PADMA LAKSHMI
Posted on Feb 9, 2022

Is there anything Padma Lakshmi can't do? That's a rhetorical question. In just one day spent with the best-selling author/trailblazing activist/award-winning host, we learned she's also a hilarious ad-libber, a consummate professional and a really really good roller skater. If that wasn't impressive enough (it definitely is), she answered about a million and one questions about her job, her morning routine and of course, her perfect pair of jeans. You try doing that on roller skates
Hi Padma! Tell us why you got involved in our spring campaign.
I've worn Madewell on both my shows, Top Chef and Taste the Nation, and thought the clothes were literally made well. They have a wonderful chill vibe. I try to put the same relaxed energy into all my work because as a food writer, I want to make people feel empowered to be creative in the kitchen. So I was excited to collaborate—the fit is good, you know?
We sure do! And speaking of fit, how did the clothes feel?
Comfy, cozy, nice and roomy. They're pieces I can see myself wearing on a lazy weekend, or hanging out with my daughter, or going to brunch with a friend.
And when it comes to denim, what's your go-to pair?
I love a good, high-waisted flare. I think it speaks to the era I was born in—the '70s—and what I saw then as feminine glamour and strength. There's also the sense of fun that flares evoke. I try to have fun with my wardrobe and not take myself too seriously.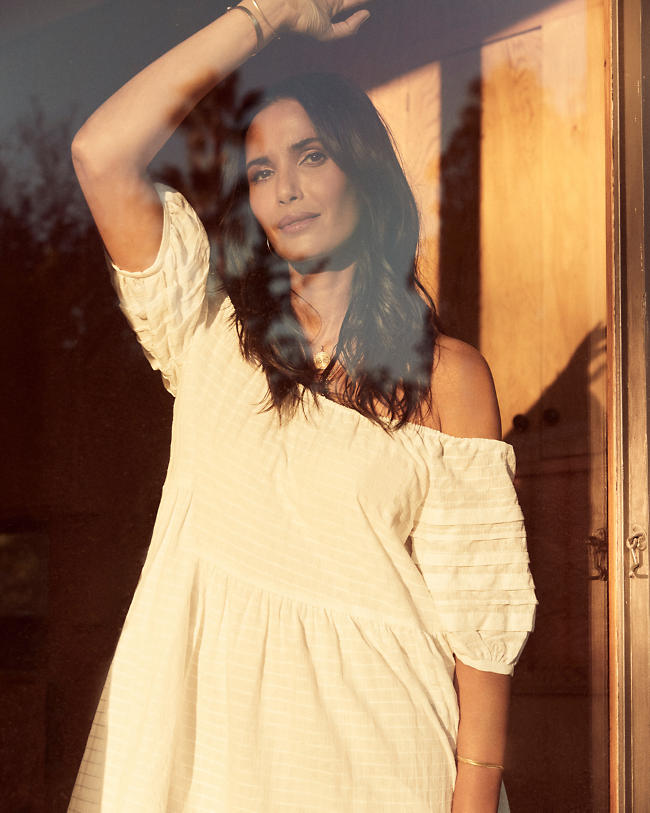 So let's talk a little about work. What do you love about your job?
Experiencing new cultures and meeting different people. I believe that through exposure to a wide variety of influences, we can become more informed, evolved and empathetic. I love food, being with others and discovering what makes us human. So I'm incredibly fortunate to do what I love for my job
What a phenomenal answer. And on the flip side, what's the hardest part of your job?
Being away from my loved ones and missing some of the action that goes on at home. I've always been a nomad and travel is something I've loved and done actively throughout my life. I'm good at it, but I'm also a homebody. I never want to leave my daughter behind. No one makes me laugh like she does.
Okay, in the spirit of this campaign, we want to do a little lightning round of questions about what you're made of. First up: what's your coffee order made of?
I usually drink tea at home. My go-to is masala chai with a little whole milk and honey from the bees in my garden (*Ina Garten voice* if you don't have your own bees, store-bought is fine).*
Lol but also, that sounds amazing. What's your best outfit made of?
A jumpsuit or sweater dress. Both require little thought but offer maximum mobility and can transition easily from day to night.
How about your perfect meal?
It changes, but right now it would be shepherd's pie with hot sauce and a crisp, tart salad.
Thanks, Padma! Check out all the looks from her freewheeling shoot here. And don't forget, we want to see what you're made of. Take a pic in your Madewell best and share it on Instagram. Tell us three to four things that make you who you are—from the silly to the serious to the surprising—in the caption, plus tag @madewell and use the hashtag #everydaymadewell. Can't wait to see what you're made of! *See, we told you she's hilarious!