A Fall Reading List, For Especially Autumnal Situations
Posted on Oct 29, 2018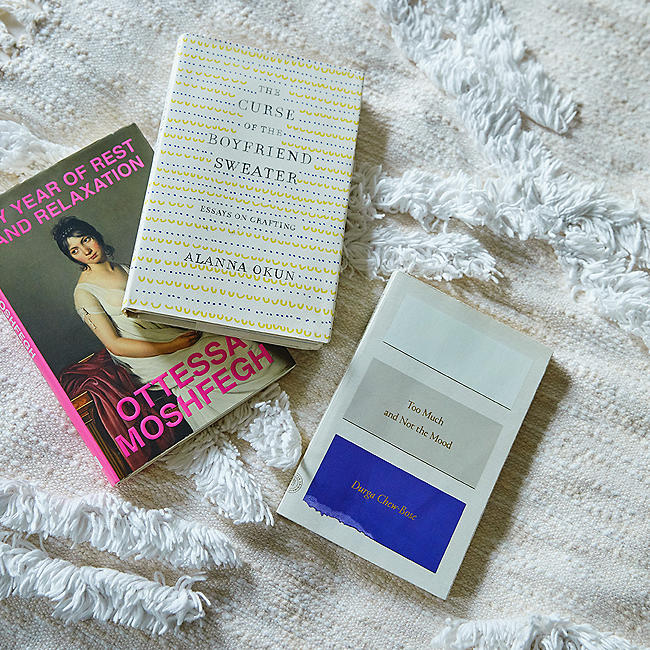 We're big on fall, particularly because the cooler weather and fewer daylight hours make it juuust the right time to cozy up to a new book. Or six. Whether you prefer ghost stories, action-packed novels or understated prose, we've got you covered—and then some.
If the calmer months have you feeling all introspective:
Too Much and Not the Mood by Durga Chew-Bose

Chew-Bose's debut collection of essays is thoughtful, honest and winding in a good way—like going for a GPS-less drive and seeing where the road takes you. Reflecting on everything from a particularly impactful emoji, to identity as a first-generation Canadian (her parents are originally from India), to the clarity that comes from living alone and more, it's the kind of book you'll be eager to read from cover to cover—while simultaneously wanting to savor each sentence.
If you're not afraid of a good ghost story:
Lincoln in the Bardo by George Saunders

Ghosts have popped up in Saunders's imaginative and—we mean this as a compliment—straight up weirdo stories since the '90s, but his first full-length novel goes beyond. Over the course of a single night in a graveyard, you'll hear from several specters, including President Lincoln's deceased son, Willie. The style is experimental, the characters are bizarre and the heartbreak is palpable. P.S. The audiobook has a 166-person cast that's pretty impressive, if that's your thing.
If you like turns of phrase crisper than freshly picked apples:
The Visiting Privilege by Joy Williams

Often referred to as a "writer's writer," Williams has a way of capturing the human condition that's completely her own. There's a fair amount of darkness, biting humor and undeniably gorgeous sentences in this book, a collection of both earlier and more recent works. Keep an eye out for special (read: furry) visitors too—according to Williams' own list of short story must-haves, there needs to be "an animal within to give its blessing." German shepherds are her favorite.
If you're all about (make your own) sweater weather:
The Curse of the Boyfriend Sweater: Essays on Crafting by Alanna Okun

Crafters of the world, rejoice; Okun truly gets you. Her essays are about so much more than yarn—as is crafting itself: "It reminds you that there are calm and good parts of your brain where you can retreat when the rest of it feels like a war zone, and that you can, in some small, brief way, save yourself." While staying rooted in the projects she's completed since she was a young girl, Okun delves into the success and failure of relationships, loss of loved ones and celebration of new life. Prepare for plenty of inspiration—for knitting, and for, y'know, being a person.
If shorter days leave you needing an extra jolt of energy:
The Power by Naomi Alderman

Never underestimate the power of a woman—literally. That's the essential message of Alderman's novel, which tells the stories of several characters entangled in a new global phenomenon: women are capable of producing serious (like, deadly serious) electric shocks using a special muscle in their collarbones—and let's just say it flips patriarchal society on its head. Written with the energy of an action film and the intelligence of a full-on cultural critique, it'll wake you from that daylight savings–induced haze, for sure.
Or if you're considering full-on hibernation:
My Year of Rest and Relaxation by Ottessa Moshfegh

Though it's set in 2001, this novel about a Columbia graduate's year spent holed up in her apartment, mostly sleeping and rewatching Whoopi Goldberg movies, feels eerily current in today's endlessly scrolling, feelings-eschewing, cancelled-plans-loving atmosphere. Because our unnamed protagonist isn't properly processing the death of her parents and the end of a less-than-fulfilling relationship, she decides to sleep for a year to "save [her] life." While the main character may be half-awake (at best) throughout, Moshfegh's sharp insight will certainly hold your attention.
OK, now that your bookshelf's outfitted, let's move on to that closet.