Clean Plate Club: Diane Chang's Beet Pesto Pasta
Posted on Aug 15, 2018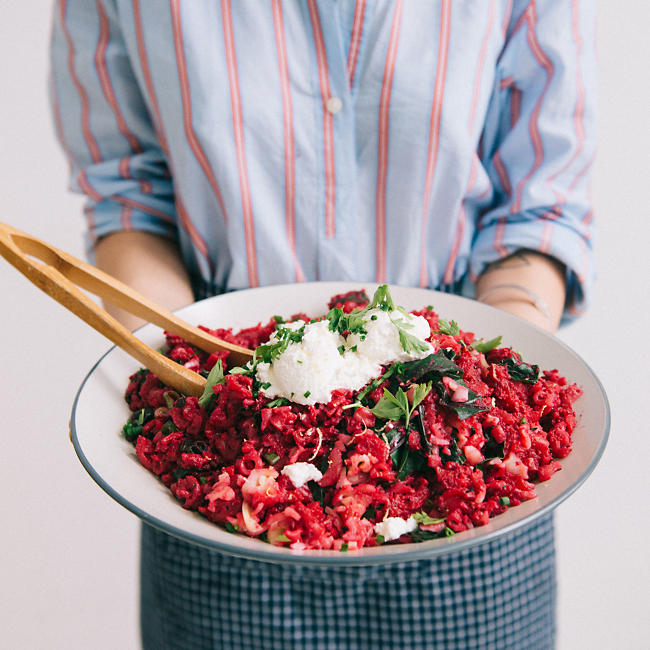 We couldn't let Lady We Love /chef/food writer Diane Chang off the hook without sharing a recipe. Read on for the story of her delicious (yep, we devoured it) beet pesto pasta and welcome to the official Clean Plate Club.
When my friend Jenny texted me to remind me of our dinner plans, I panicked. Somehow, I had forgotten we had even made plans and worse, that I had offered to cook her dinner at my house. With only two hours to come up with an entire menu, I was ready to throw in the dish towel and suggest dinner out.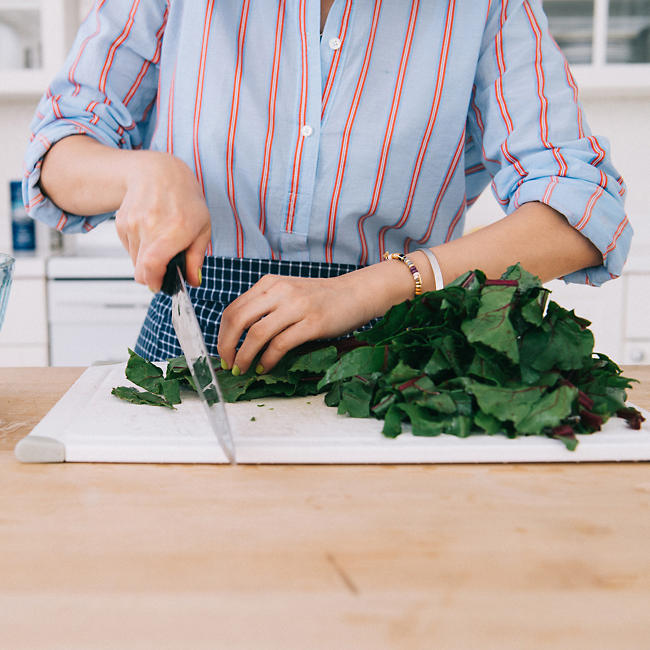 But peering into my fridge, I uncovered fresh beets, a small tub of leftover ricotta, shelled peas and the usual suspects: garlic, Parmesan, lemon, nuts, chives. Lucky for me, there's always some kind of dried pasta lying around, a habit adopted during college that has carried me through many late night hunger pangs. So with this assortment, I knew there could easily be a hacked-together but impressively delicious homemade meal ahead.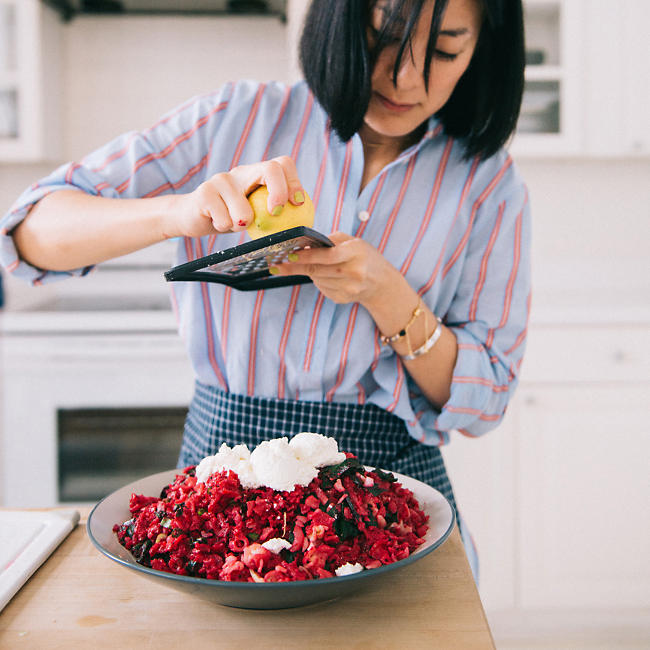 What resulted was an ultra-simple beet pesto pasta topped with ricotta, peas, chives, and lemon zest. It's like the pesto we all know, except with plenty of beets, which means an extra serving of plants. (Who doesn't love that?) It's easily adaptable for vegans — just nix the cheeses and toss the pasta with extra crushed pistachios or walnuts instead. If peas aren't in season, go for sautéed chard, dandelion greens, broccoli rabe or just use the beet greens that most people unknowingly toss out. And if pasta isn't your thing, this is thick enough to spread on pita, dip with raw veggies or mix into your oatmeal for a savory breakfast.
INGREDIENTS
For the pesto:
1 ½ cup steamed or roasted red beets, peeled and chopped
6 cloves garlic, roughly chopped
1 cup roasted pumpkin seeds or walnuts
½ cup grated Parmesan cheese
¾ cup olive oil
Juice of 2 lemons
Salt and pepper to taste
For the beet pesto pasta:
Pasta of your choice
½ cup ricotta
¾ cup cooked shelled peas
Beet greens and stem, lightly sautéed in olive oil (optional)
Pea tendrils (optional)
Zest of 1 lemon
INSTRUCTIONS
In a food processor, purée beets, garlic, walnuts or pumpkin seeds, Parmesan cheese, olive oil and lemon juice.Season with salt and pepper to taste. Set aside.

Cook pasta as per instructions. Mix well with beet pesto and cooked beet greens. Top each plate of pasta with a dollop of ricotta, fresh shelled peas and tendrils if you have them, and lemon zest. Serve.
Diane wears the Wellspring Tunic Popover Shirt, Perfect Vintage Jean in Fitzgerald Wash and Juliette Oxford in dark chestnut.