Eden's 5-Ingredient Grilled Peach And Burrata Salad
Posted on Aug 14, 2018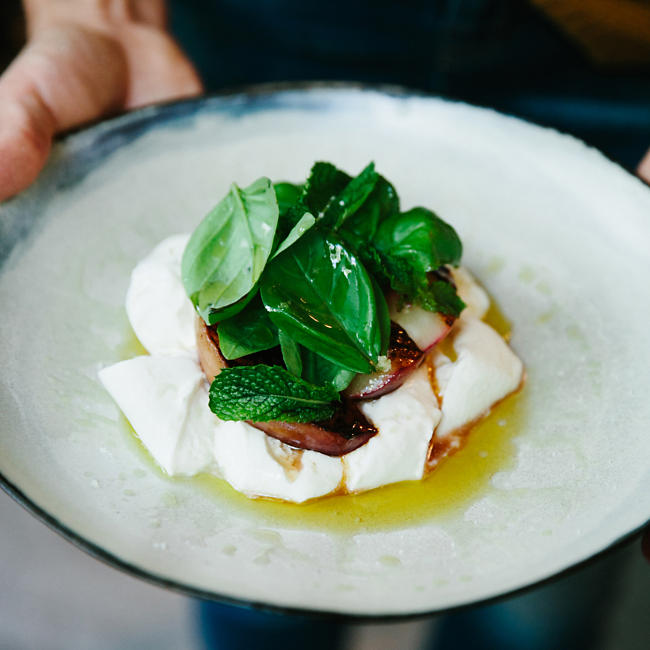 Just in time to catch the end of peach season this September, we invited ourselves over to our friend Eden Grinshpan's, a Canadian-born chef whose love for inventive dishes (like shaved-coconut green beans and honey-sage grilled cheese) turned into a globe-trotting series on the Cooking Channel. So when she offered to teach us how to make her simple but innovative 5-ingredient grilled peach and burrata salad, we couldn't say no.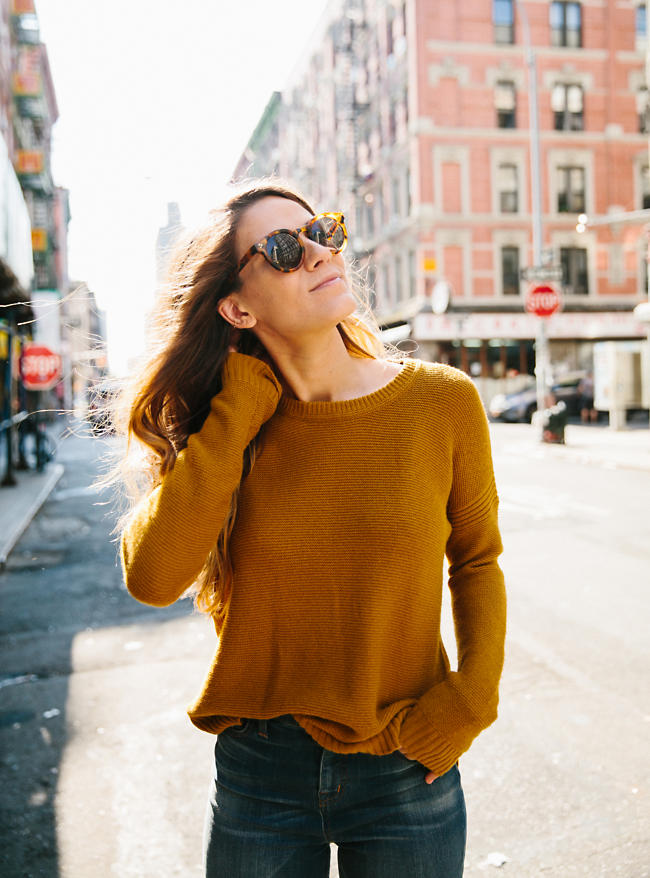 What inspired you to make this dessert? (It is a dessert, right?)
Right now, it's the very end of peach season, and I wanted to pair peaches with creamy burrata. It's creamier than other white cheeses, like mozzarella, so the dish feels more decadent and dessertlike. It takes longer to heat up the grill pan than it does to make this whole dish.
How'd you dream it up?
I always try to include fresh herbs for two reasons. First, they're beautiful. Just look at Yotam Ottolenghi's dishes. He's a chef, but I consider him an artist too. Second, they give a dish a sense of earthiness. As for the rest, I like to surprise people. Basil for dessert? Balsamic vinegar? It's all about the unexpected.
What music sets the mood when you host a dinner party?
Fleetwood Mac, Lauryn Hill, the Rolling Stones, Neil Young, Van Morrison… I like to play a mix like that because it keeps the mood up, especially when I'm having an eclectic group of people over. I have way more fun hosting than being served, and I've even been known to roller-skate when I cook.
Is your cooking uniform different from your daily uniform?
I'm always in the same thing: jeans and comfortable tees. I like a classic style with a rock bent, just like the music I listen to. And when I'm not in the kitchen, I usually have a black leather jacket on. The best style advice I've ever been given is "Be comfortable because that's when you look sexy."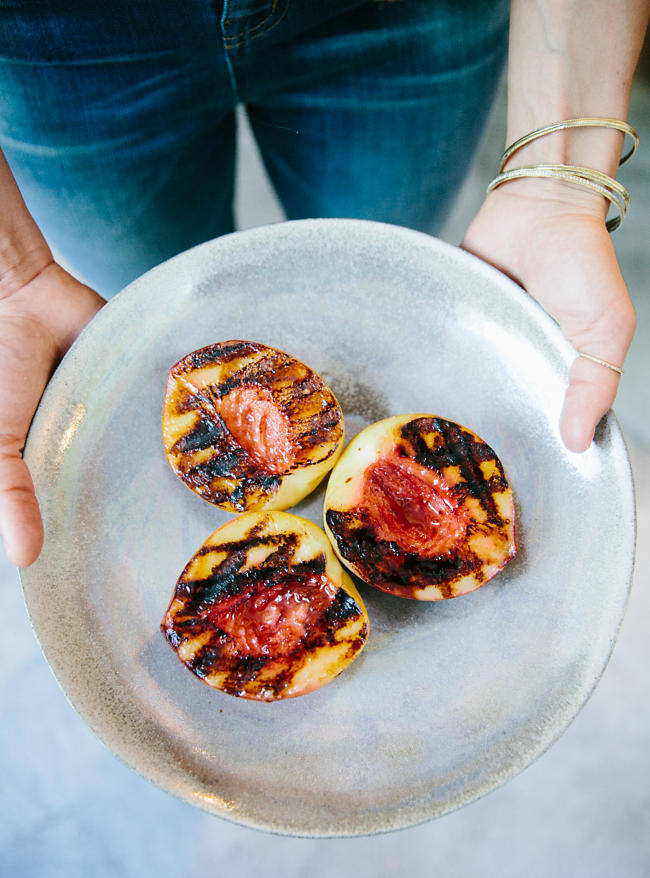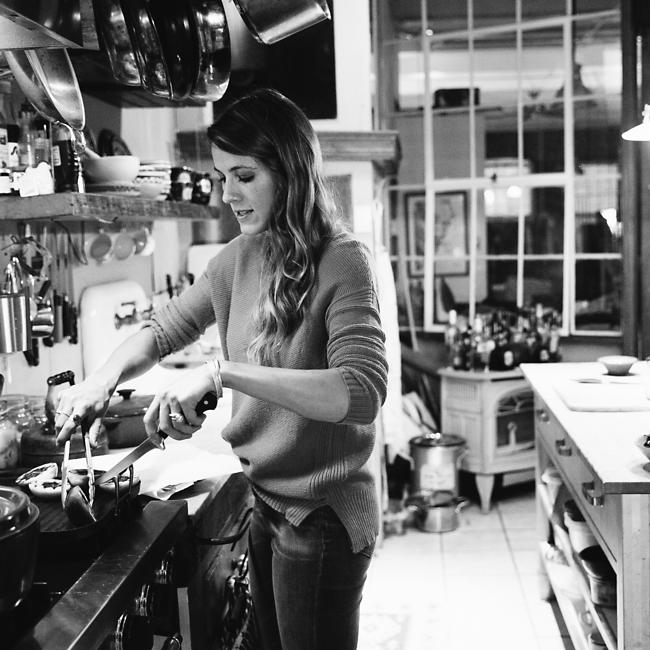 EDEN'S GRILLED PEACH AND BURRATA SALAD
Ingredients:
1 ripe peach
A handful of fresh basil
A stem of fresh mint
1 ball of burrata
Olive oil
To taste: coarse salt, lemon juice, balsamic vinegar
Directions:
Set aside washed basil and mint leaves (they dry best between paper towels). Cut the peach in half, toss the pit and coat the flesh with olive oil. Grill the peach halves flesh-side down on a grill pan. (Goal: Get those pretty grill lines.) On the serving plate, slice open the burrata and spread evenly with a spoon. Top with sliced peach halves, basil, mint and sprinkle with salt. Serve with spoons, forks—or your hands.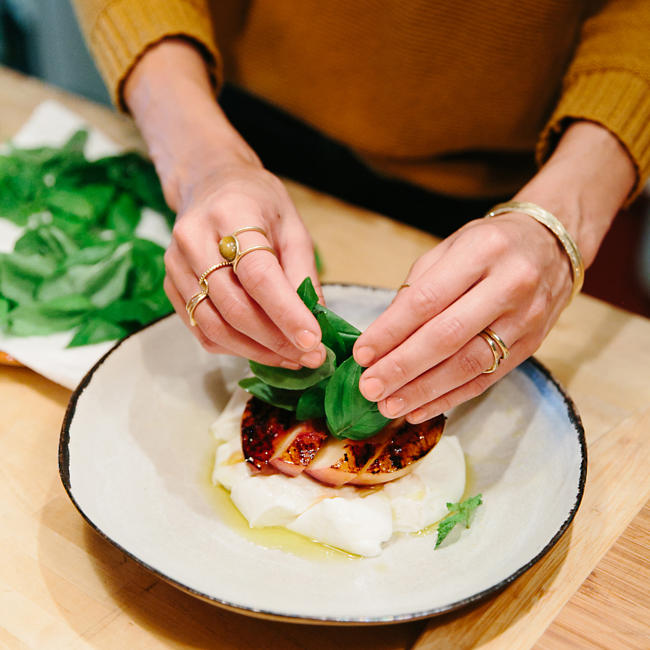 Shop our entire assortment of denim here and see more 5-ingredients-or-less recipes here.