Fernanda's 5-Ingredient Zucchini Noodles With Homemade Pesto
Posted on Aug 14, 2018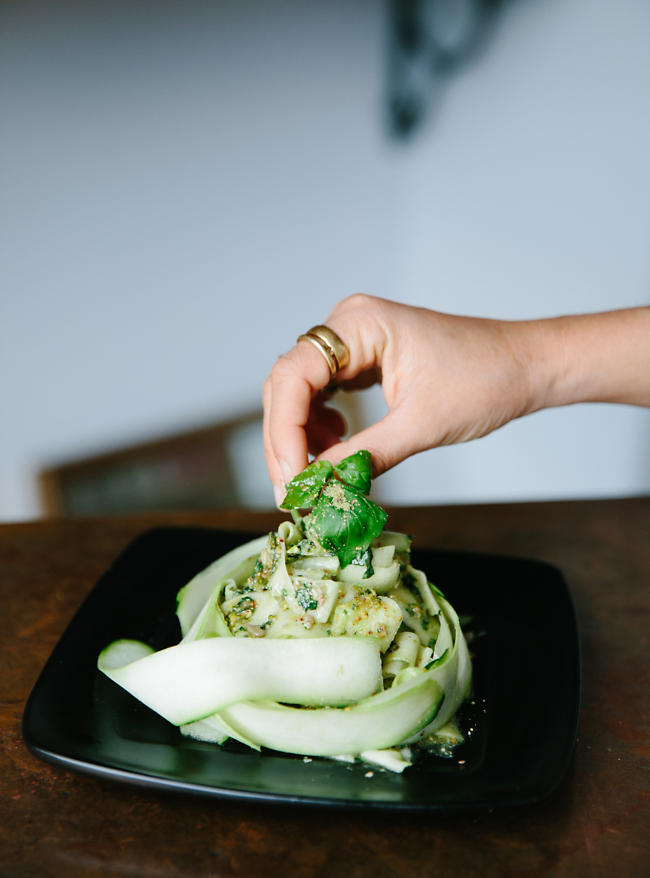 The first fall weekends are all about the subtle slow-down—remembering to grab that extra layer, our favorite shows returning to their rightful Thursday night spots, evenings starting a little earlier—and the way we cook is no exception. We asked our friend Fernanda de la Puente, a Peruvian, New-York based holistic nutritionist, for a summer-to-fall recipe you can make in five minutes or less, with just five ingredients.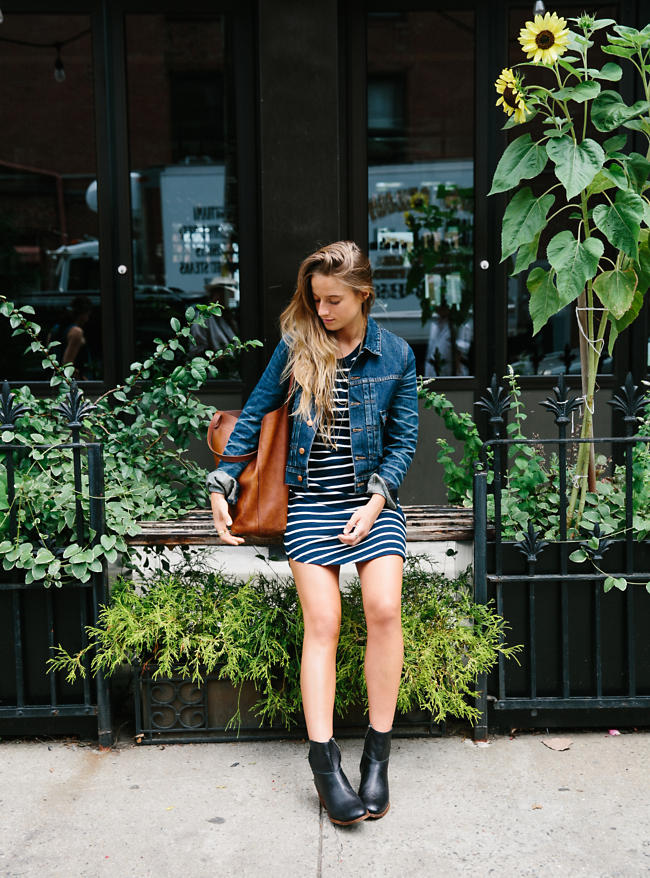 Tell us about this dish.
Pesto was my favorite sauce as a child and basil is the star of any pesto (it's also at its most delicious now, before fall hits). I made this version with sunflower seeds because you can crush them by hand and they're safe for people with nut allergies. Since even boiling noodles can feel like work sometimes, I used zucchini, sliced with a carrot peeler. The crunch is so refreshing.
Does your approach to style change with the seasons too?
I always want to feel balanced and easy, no matter what the season. Usually I'm in heavy-duty kitchen clogs like most chefs wear. It's not glamorous, but it's part of feeling grounded so I can channel all my focus and love into the food I make. Life in the city can be so hectic. Why dress uncomfortably?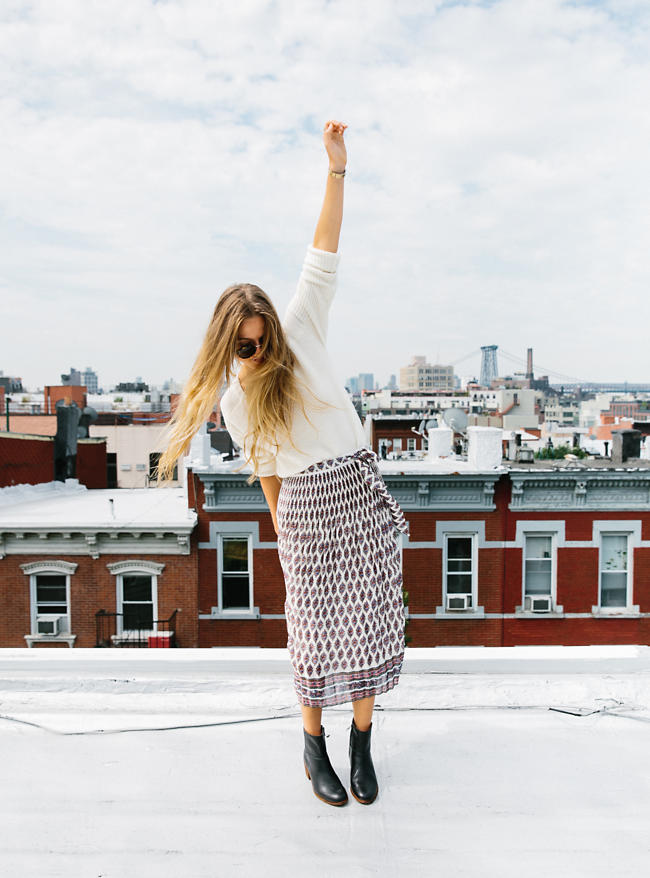 We bravely scaled the fire escape ladder to your roof—the view's totally worth it. What's the best time to be up there?
In warm weather, I start my mornings there with some yoga and stretching. I need to warm up my muscles, not just hit the ground running. But my favorite time of all is midnight, with the moon against the skyline. It doesn't get any better than that.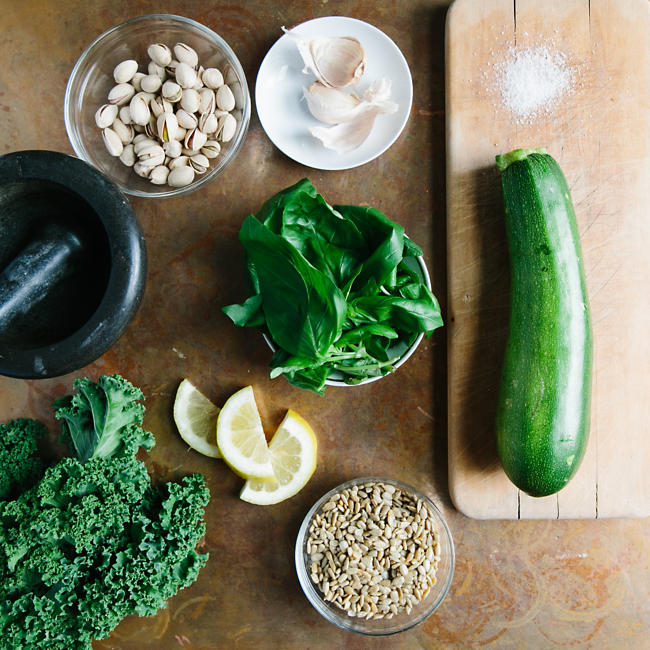 FERNANDA'S ZUCCHINI NOODLES WITH HOMEMADE PESTO
Ingredients:
½ cup sunflower seeds
2 cloves minced garlic
2 cups roughly chopped basil
½ cup olive oil
2 big zucchinis
Extras: salt, pepper, lemon juice, a pinch of spirulina to taste
Directions:
Use a mortar and pestle to crush the sunflower seeds and garlic with a spoonful of olive oil (a rounded metal ice cream scoop works too). Mix in the basil, a pinch of salt and remaining olive oil and stir well. Peel the zucchini lengthwise to get lasagna-shaped noodles. Top the zucchini noodles with the pesto and serve.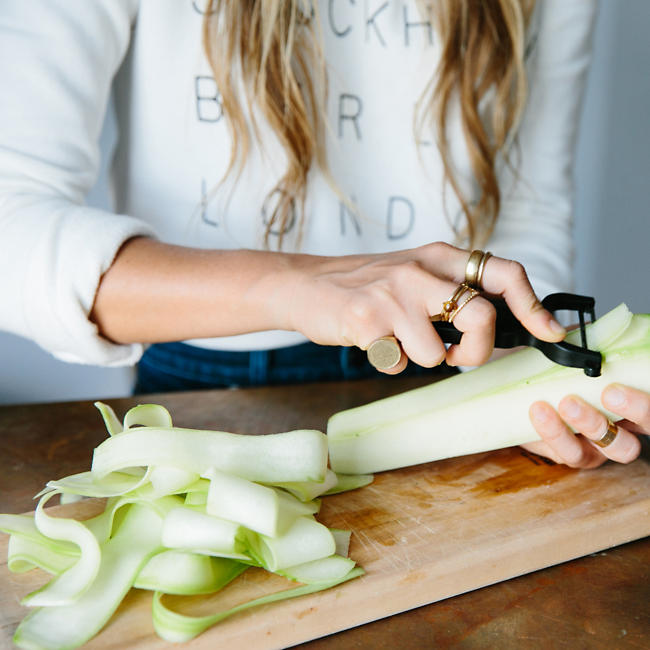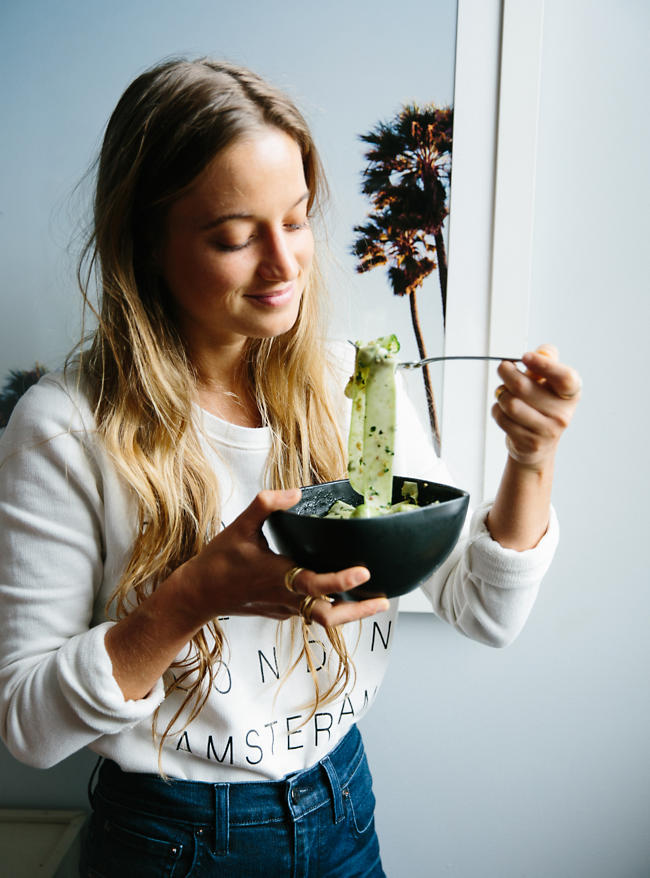 See more of Fernanda's recipes here and shop our denim assortment here.