WHAT ARE YOU MADE OF?: OUR CHAT WITH ISSA RAE
Posted on Feb 15, 2021
How do you prepare to interview writer, producer, actress and all-around incredible human Issa Rae? Well, if you're anything like us, you quickly binge rewatch all four seasons of Insecure "for research" and spend the night before the call trying on five different outfits even though you know she won't be able to see you. Whatever, everyone has a different process. We're so excited to have Issa as the star of our brand-new "What Are You Made Of?" campaign, which highlights the things that make each of us who we are. So what's Issa made of? Almond milk lattes, long workdays and, of course, really great jeans. And that's just for starters.
First of all, tell us a little about the photo shoot!
The shoot was great. I really, really loved working with Sadé. I felt like she had such a good temperament and vision. And it was a lot of fun to just be myself in a glamorous setting.
That's great to hear—we're obviously obsessed. What made you excited to work with Madewell?
It really felt like it fit my uniform, my work uniform. When you're talking about a campaign that's based on what you're made of and how you show up to do what you're supposed to do, the clothes and the concept really aligned with who I am. And so it felt like I got to, again, show up just as myself.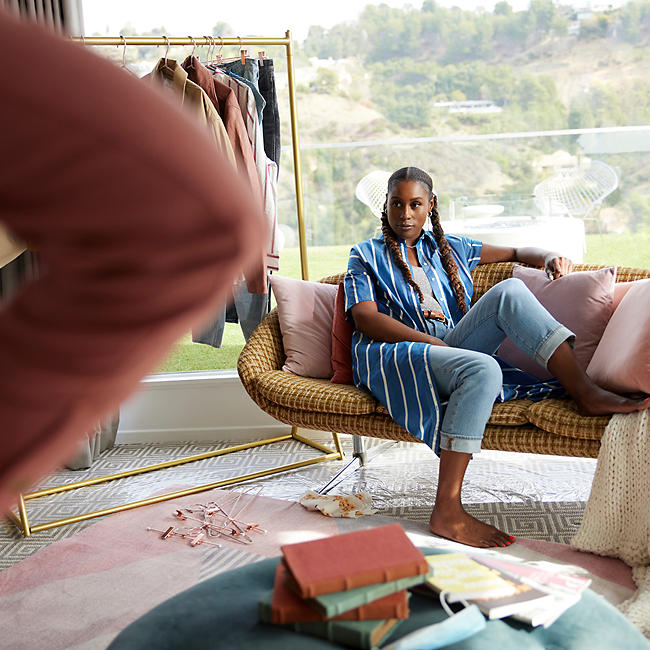 And speaking of your work, can you tell us a little bit about your companies, ColorCreative and Raedio?
Sure. I broke into this industry on the digital side and was looking to see what opportunities I could get my hands on. As soon as I did, I recognized that there are various parts of the industry that needed help addressing under-representation. That's how ColorCreative was initially born. And, while it started as more of a production company aimed to fund the work of under-represented voices, women and minority creators, we noticed a need for actual representation for these writers—helping them break into the system and manage their careers. So ColorCreative transitioned into that. Then with Raedio, I have such a love for music, it's an important part of all the projects that I put forth. I got the opportunity to start a label with Atlantic, which has been another chance to represent female artists properly and also maintain the independence of these artists and give them creative freedom in a new way. We tout ourselves as an artist-first label and the artists we collaborate with represent that.
It's incredible. And it also seems like a lot of work! What are some of the hard parts of your job, and on the flip side, what brings you the most joy?
The hardest part is balance. Like even the other night I was proud of myself because I had gotten so much done on a Sunday. I was checking item after item off my to-do list, happily. And then when I went to bed, I was like "I still didn't get the most important things done and I'm going to be stressed tomorrow. I didn't manage my time properly. I got a lot done, but I'm still under the gun to deliver certain things." I come up against that often and it's really just like whack-a-mole. As soon as you hit one, another one pops up. But the upside is I love every moment of it. If it were a whack-a-mole for my old profession, I would be miserable. But given that these are tasks that I enjoy doing, and I get to be creative, there's just nothing like that feeling.
We completely agree. OK, in the spirit of this campaign, we wanted to do a little lightning round of questions about what you're made of. First up: What's your go-to coffee order made of?
Almond milk latte, all day.
Delicious. What's your perfect day made of?
Perfect day is a checked-off checklist, a glass of wine and sunny weather.
What's your favorite outfit made of?
My favorite outfit consists of jeans, Chucks and a T-shirt.
And what's your best memory made of?
My best memories are made of laughing so hard at inside jokes with friends or family that my sides hurt and I can't breathe.
Thank you, thank you, thank you Issa! Check out all the looks from her California-cool shoot here. And hey, we want to see what you're made of. Take a pic in your Madewell best and share it on Instagram. Tell us three to four things that make you who you are—from the silly to the serious to the surprising—in the caption, plus tag @madewell and use the hashtag #everydaymadewell. Can't wait to see what you're made of!