Behind the Design: All About Veja, Our Fave Sustainable Sneaker Brand
Posted on May 17, 2018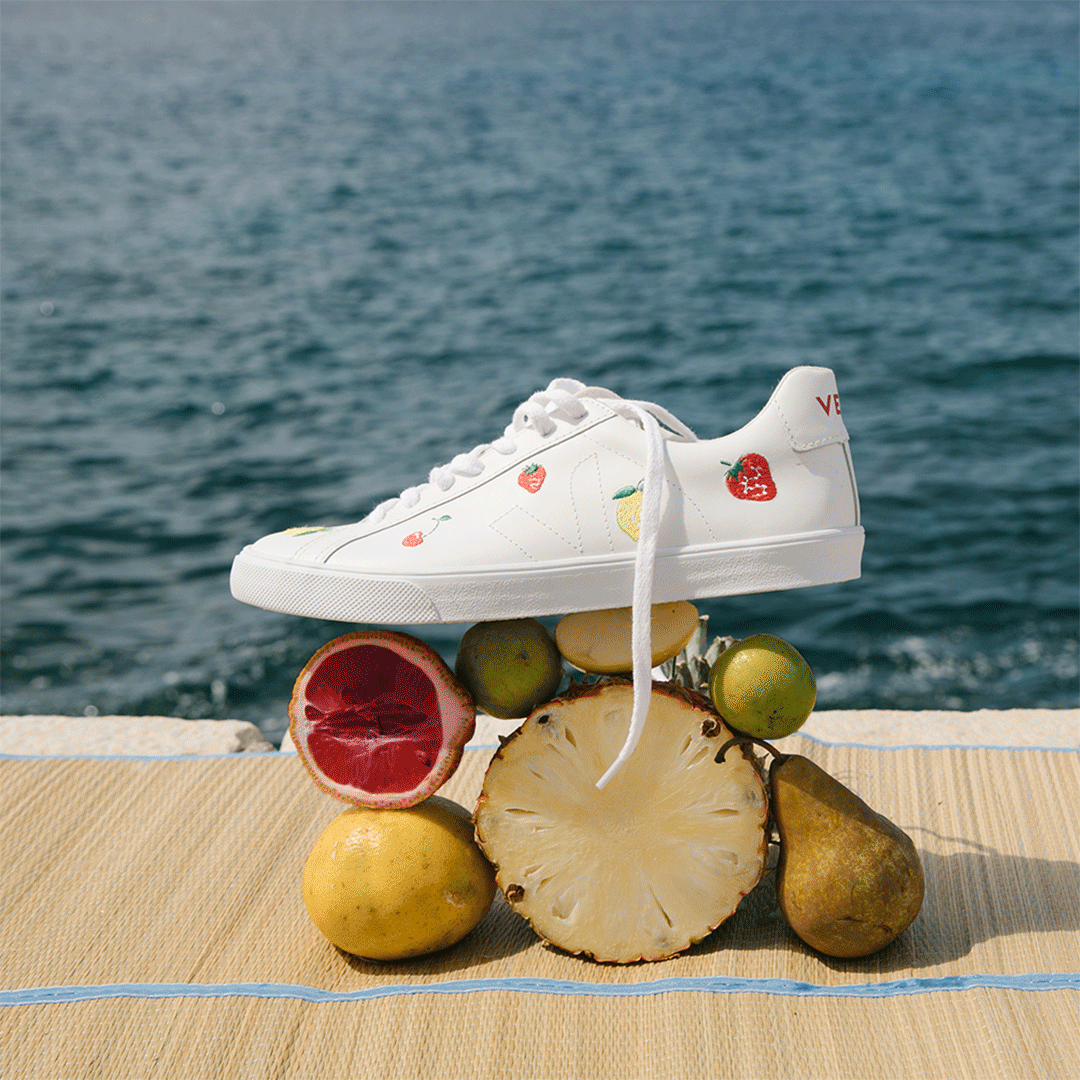 It's easy to love sneaker brand Veja—let's say it together, veh-jah—for its unique designs that are extra comfy. (We've got some really good ones for spring and summer, btw.) But there's a lot more to the French-slash-Brazilian label that we wanted to shout-out here: In fact, its name means "look" in Portuguese, which the founders chose because they wanted consumers to go behind the shoes and consider what went into making them. Veja's dedication to sustainability, fair working conditions and doing it all without compromising aesthetics is something to admire. We chatted with its community and event manager, Marine, about the brand she describes as "50% transparency, 50% design."
Your sneakers are so special—not just the designs, but also the materials you use to make them. Can you tell us more about what goes into a pair?
Our three main materials are wild rubber, agro-ecological cotton and B-Mesh.

Rubber is used in the sole of every sneaker. We buy ours directly from seringueiro (rubber tapper) communities in the Amazon forest (the only place where rubber trees grow wild). Our process helps to fight deforestation, as the seringueiros prefer to work for us rather than to cut the trees to raise cattle. We've purchased 130 tons of wild rubber, meaning around 300,000 acres of Amazon forest have been preserved.

The cotton used in our canvas and linings is more than organic—it's agro-ecological. Farmers grow cotton without chemicals and with complementary crops (corn, sesame, beans) in the same space, leaving the soil richer than it was before cultivating it.
We also developed B-Mesh, short for Bottle-Mesh, which is the first material made completely from recycled plastic bottles. It's waterproof and breathable—perfect for sneakers.
Has using eco-friendly materials like these ever felt limiting to the design process?
Honestly, producing the right way hasn't led to any obstacles so far! The way we work is stimulating. It helps us to be more creative and push boundaries. We like to prove that respecting humans and the environment doesn't have a negative impact on design.
We love that that people are so clearly at the heart of your brand—what else can you tell us about your team?
Ghislain Morillion and Sébastien Kopp, our two founders, met the farmers, producers and employees of the factory we use in 2004. We're still working with the same community, and we've built a strong relationship with them. Bia and Val, our specialists in charge of cotton and wild rubber, live in Brazil and help our producers.

Every pair of sneakers is shipped by boat from Brazil to France. In Bonneuil-sur-Marne (close to Paris), the logistics are managed by a group called Ateliers Sans Frontières. Their goal is to help vulnerable people get back on their feet and work—they learn how to write résumés, speak French and get assistance finding housing. These are the workers who receive our parcels and ship them to retailers all over the world. Since Veja was founded, 200 people have been reintegrated into the workplace through this program.
Very impressive! Another interesting thing is that you're open about "limits," as you call them on your site. Why do you choose to let your customers in on the brand's setbacks?
Veja is still a work in progress, and we're always looking to be more innovative and creative. Because customers can ask for more transparency via social media, it helps brands to change and improve step by step. We don't see limits as reasons to stop but as opportunities to search for solutions.
Support Veja's stylish and sustainable mission—shop our latest selection of its sneaks here.