BEHIND THE DESIGN: OUR COLLABORATION WITH LIVELY
Posted on Aug 14, 2019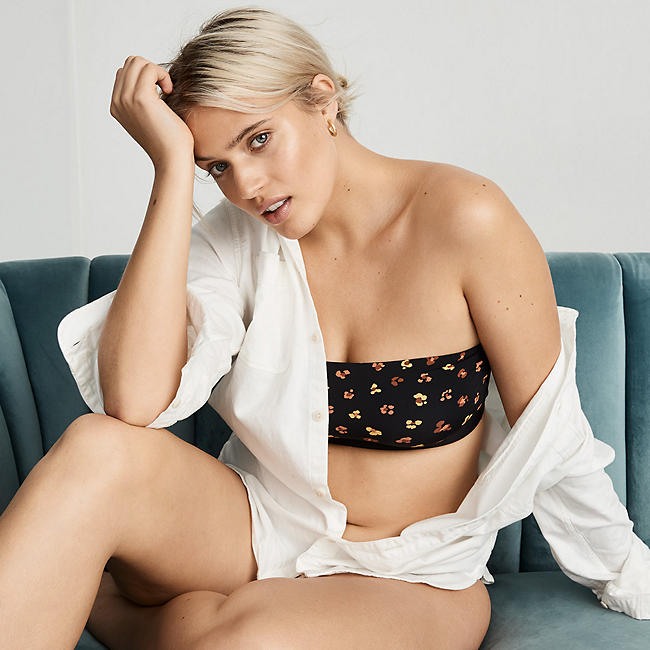 We're big fans of LIVELY—their effortless blend of lingerie, activewear and swim (which they affectionately called leisurée) is right up our alley. So of course, we're superexcited to team up on a collection of their famous fits in our exclusive colors and prints. Founder and CEO Michelle Cordeiro Grant chatted with us about the brand's ethos, how our collab came together and her exciting future plans.
Tell us a little about your background and how LIVELY came to be.
I grew up in Pennsylvania in a town where there was one Indian family, and it was mine. It was really tough to embrace my uniqueness growing up there, and I often felt like an outsider. When I came to New York to work in fashion, I noticed a similar trend with the brands I was working at—there was one point of view represented, and it wasn't mine. I was inspired to create a completely new experience for lingerie, one that celebrated human uniqueness. I wanted a product that conformed to women's bodies rather than forcing women to conform into the products.
With LIVELY, I started something that would inspire my daughter—a brand that represents her as an individual and acknowledges that she is her most powerful asset. Now more than ever, women are finding an incredible amount of confidence and appreciating their beauty, and I'm so glad we're able to support that.
Let's talk about the collab! What was the process like?
We knew we wanted to include core LIVELY pieces that would seamlessly fit into the Madewell aesthetic, giving customers a full head-to-toe look, including bras and undies. It was an amazing opportunity to take what we do best and give it an exclusive Madewell spin. Showcasing our clean-lined, modern shapes in a fresh, fun color palette felt like a true joining of the brands.
What's up next for LIVELY?
We're hoping to open more stores across the U.S. Community is the core of our brand, so we are always looking to connect with women who inspire us. We also launched our podcast, "No Makeup Needed", earlier this year, where I interviewed female founders like Leandra Medine, Sarah Levey and Cyndi Ramirez to learn more about how they built their brands. Now, we're superexcited for season two.
Thanks, Michelle. Shop all of the Madewell x LIVELY styles right here.