Ask The Experts: Our Team Tackles Your Men's Denim Questions
Posted on Jan 29, 2019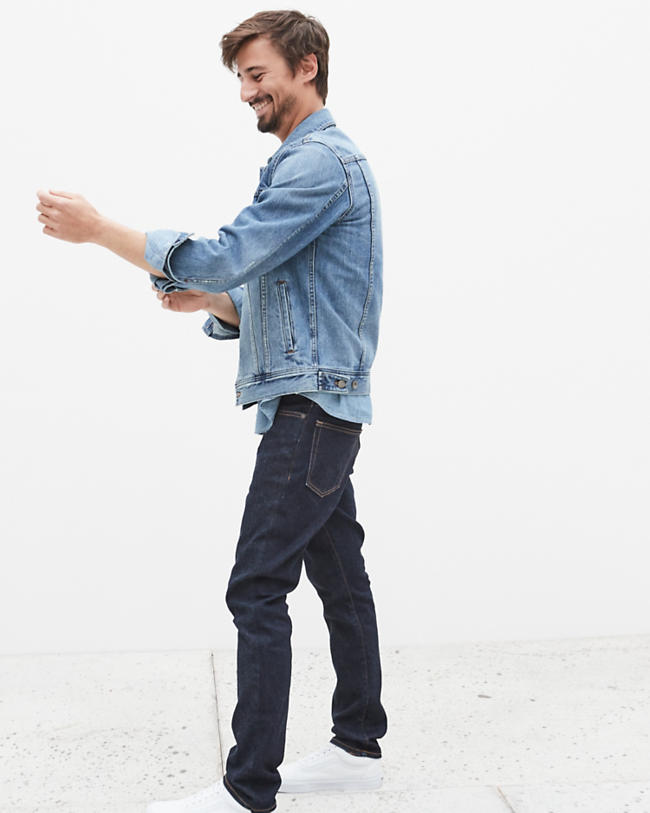 You've got questions, we've got answers. Our team took a look through your comments on Instagram and imparted their denim wisdom, addressing everything from how to distress your jeans at home to the truth about the "freezer trick." Get in the know, below.
greg_hardes:

So I always heard double denim was a huuuuge no-no, but now I see people doing it. What are the dos and don'ts?
Denim on denim will always be a go-to look, in our opinion. Try layering washes that are similar rather than contrasting light vs. dark. And don't be afraid to turn that double into a triple—try wearing jeans, a denim shirt and a jean jacket on top.
phodgson11:

Does the freezer trick really work for denim?
Ah, you must have heard that putting your jeans in the freezer is the best way to clean them without fading. To be honest, doing that just takes up precious space for ice cream—and only makes the bacteria dormant. So basically, you end up with a giant petri dish in your freezer. The hard truth is, the less water and detergent touches your jeans, the darker they'll stay. Try spot cleaning if you get stains. Spraying fabric freshener and running them through the dryer can also spruce them up.
saculsnewo:

I like the wearing-a-denim-jacket-under-another-coat look, but I'm not sure if I'm pulling it off. Are there rules to wearing denim jackets as a mid-layer?
First things first, there are no rules. Some style ideas would be to wear a striped or solid sweater underneath the denim jacket, then layer over with a heavier coat. We also love the idea of wearing a more technical outerwear piece with a jean jacket underneath.
tobinludwig:

I would love to try distressing my own denim pieces—any simple tips for adding some awesome looking wear and tear?
If this is your first time, start with a pair you can easily part with to practice on. Pick up some medium to coarse grit sandpaper and sand an area where you want to create distressing. The goal is to wear down the surface yarns, which are indigo, rather than the cross, or weft, yarns—those are white. Wash and dry when you're finished for a more natural look.
david_ben:

Can you recycle denim? ♻️ 🤔
You sure can. We'll even help. Drop off an old pair at any Madewell location and Blue Jeans Go Green™ will recycle 'em into housing insulation for communities in need. Bonus: We'll also hand over $20 toward new jeans.*
theajs23:

Will there ever be a Madewell men's store??
Short answer? Yes. Stay tuned for more news very, very soon.
Thanks for sending in your questions. Check out the Denim Bar if you're feeling inspired to shop, and don't forget to follow @madewellmens to stay in the loop.