Meet Your Bag Match
Posted on Feb 20, 2019
Searching for a new sidekick? We've got you covered. Could it be a much-loved member of the Transport fam? Or a brand-new find from our Abroad collection? Take this quiz and find the bag you're meant to be with.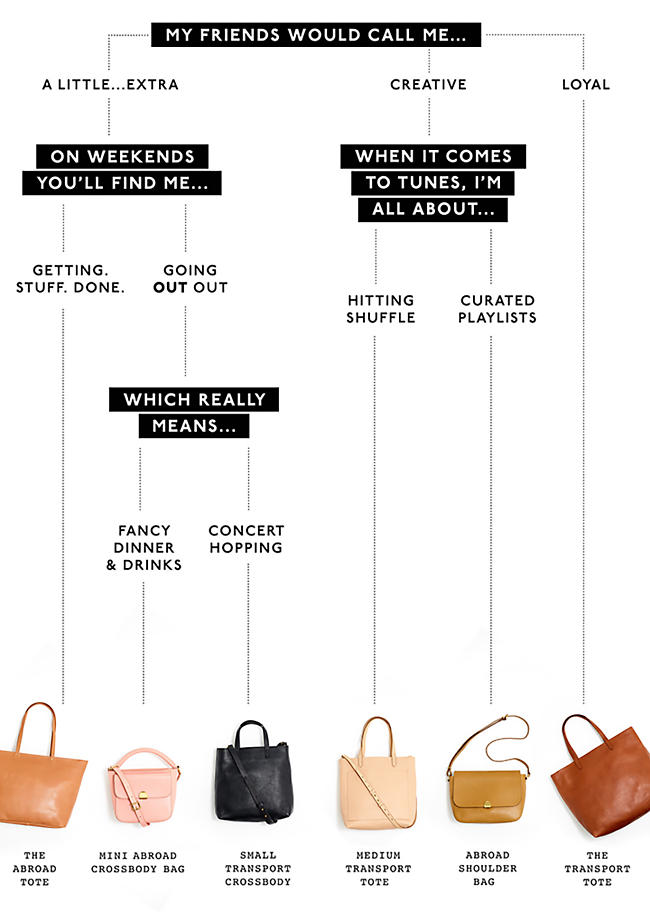 THE ABROAD TOTE BAG: A bag that's as roomy as your to-do list is long—stash all your essentials and then some (and…then some).
THE MINI ABROAD CROSSBODY BAG: Compact and vintage inspired, meet our latest favorite take on the ~going out~ bag.
THE SMALL TRANSPORT CROSSBODY: Low-key but still ready to paaarty. Our Small Transport is so timeless and super-convenient (what up, hands-free crossbody?).
THE MEDIUM TRANSPORT TOTE: So, you like options. Hold our Medium Transport by the detachable shoulder strap or handles—it's up for whatever you're up to.
THE ABROAD SHOULDER BAG: Just the right size to carry your wallet, keys, phone, plus that under-the-radar novel you've been meaning to read.
THE TRANSPORT TOTE: The OG. Numero uno. Big Kahuna. You can always count on our signature Transport.
Psst…there's more where these came from. Shop all bags here.