Ask The Experts: Our Styling Team Answers Your Denim Questions
Posted on Jul 5, 2018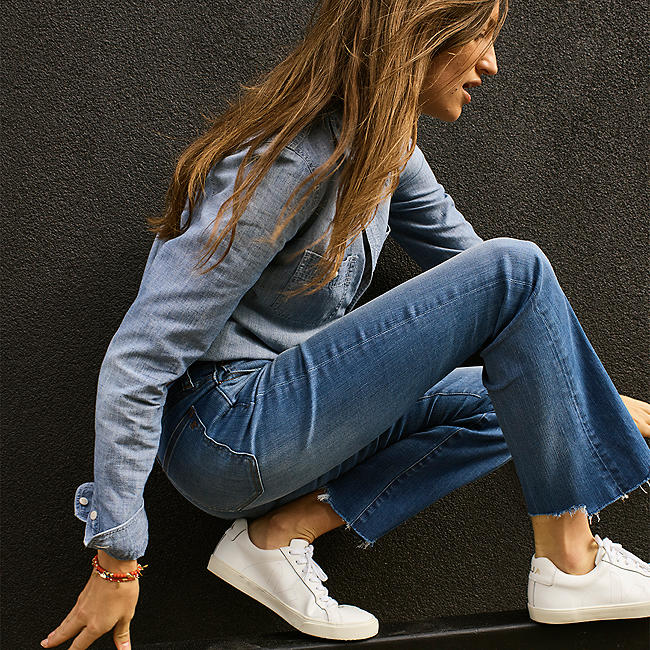 We combed through your Qs on Instagram, and whether you're looking to test the wide-leg waters, stumped when it comes to half-tucked shirts or just curious about what's hot and happening in denim—we've got all the As for you. Read on for expert recommendations on how to wear our favorite fabric, straight from our Team Madewell stylists.
@alyklugman : After years of wearing skinny jeans, how do I branch out to new styles? Love how they look on other people, but I'm stuck!
Try a slim straight, straight leg or demi-boot. These styles will ease you in as they're just a step away from a skinny fit. From there, you can start playing with proportions, and you'll be flaunting those wide legs in no time.
@ellenaleavitt: What kind of shoes go best with wide–leg or bootcut jeans?
Go for a low heel or a cute sneaker. Since we're getting closer to spring, we suggest showing off those ankles which breaks up the proportions and gives the appearance of looking taller—who doesn't love that?
@michelebcarroll: I love the shirt-half-tucked-into-jeans look but I can't ever seem to get it right! I feel like I just end up looking messy. Any tips??
Ah, the half-tuck'i.e., the art of looking put-together and casual at the same time. To nail it with a button-down, first cross over the front hem of the shirt (beneath the bottom button) before tucking right into the jean. For tees, tuck all the way around, then pull out any excess fabric in the back and voilá—half-tuck queen.
@kcharlton: How do you combine wide-leg styles and those ubiquitous voluminous shirts without resembling a galleon under full sail?
Again, utilize the tuck! It not only helps to accentuate your waist but helps prevent your top from billowing.
@ckalsky: What types of denim washes and colors are in style for 2018?
Black faded washes continue to be a thing, as well as medium indigo. Light blue will be especially big for spring and summer, and as always, for warm weather, a crisp white wash. Also, we're all about wearing light washes in the fall. Most people tend to think that they don't work for cold weather, but they're just as great when the temps drop!
Ready to give these tips a try? Pop by our Denim Bar and start shopping.