The Best Recipe For When You're Hosting 2 Or 10, According To Food52
Posted on Aug 15, 2018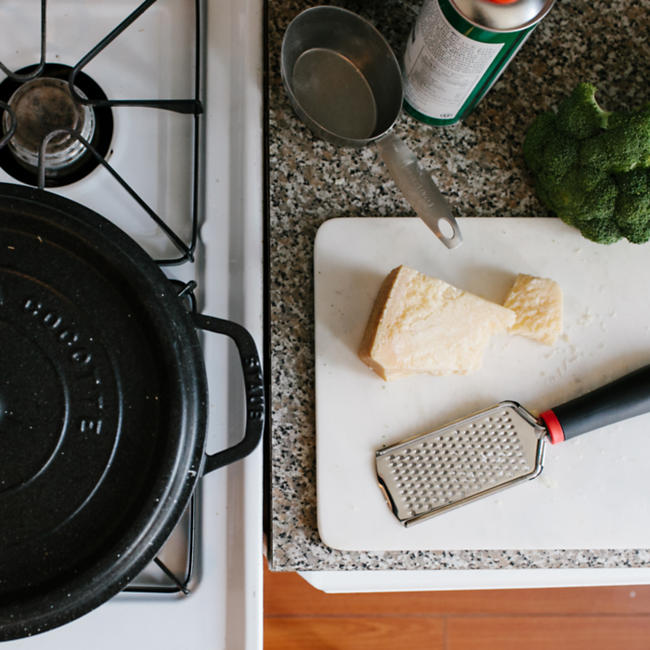 Amanda Hesser and Merrill Stubbs, founders of Food52, run their site with a simple to goal: to help their community "eat thoughtfully and live joyfully." Since 2008, the duo has been inspiring us to get in the kitchen and cook through stunning photography and dishes that appeal to bona fide foodies and novices alike. They have a knack for demystifying the world of entertaining and hosting, while of course presenting recipes—they've amassed over 60,000 of them—that even we (five-ingredient aficionadas) can recreate. Who better to propose a dish that can function as your "ace in the hole" all season long? Read on for a recipe—from their brand-new book A New Way to Dinner—that can function as a main, a side or a snack.
Amanda and Merrill's philosophy on hosting is similar to the age-old accessorizing rule of thumb. "Map out your ideal menu and then remove two items from it. It's better for your guests to remember one great dish than to be unimpressed by four mediocre dishes. Keep things simple and plan ahead," explains Amanda. This dish, one of Merrill's favorites, can be prepared well in advance, so you don't have to spend your hosting duties over the stove. "People are not there for the food—they're there to see friends and have a good time. The food should facilitate that, not distract from it."
FOOD52's BROCCOLI, LEMON AND PARMESAN SOUP
Kristen Miglore, our creative director, first introduced me to Roy Finamore's Broccoli Cooked Forever and its magical transformation of a boring old crucifer into something lush and melting and complex. We got so hooked on the stuff that I started using it as a base for soup. I usually puree half of the soup, keeping the rest chunky, and I add enough lemon juice so that you can really taste it. Plenty of Parmesan makes the soup rich and savory. Don't forget some good, crusty bread to wipe your bowl clean.
—Merrill
Serves 8
Ingredients:
1⁄2 c. (120ml) extra-virgin olive oil
6 fat garlic cloves, smashed
4 lbs. (1.8kg) broccoli, cut into florets and stems trimmed, peeled and chopped
Kosher salt and freshly ground black pepper
8 c. (1.9L) homemade or low-sodium chicken stock
1 1 ⁄2 c. (150g) grated Parmesan
Juice from 1 or 2 lemons
Crusty bread, for serving
Directions:
Combine the olive oil and garlic in a 6- to 8-quart (5.7 to 7.5L) Dutch oven and sauté over very low heat for 3 to 5 minutes, stirring occasionally, until the garlic softens and starts to turn golden.
Add the broccoli to the pot, season with salt and pepper, and stir to coat with the oil. Cover, turn the heat as low as it will go, and cook for about an hour, gently stirring from time to time, until the broccoli yields when you press it with the back of a wooden spoon. The garlic and broccoli will probably brown a little—don't worry, this is a good thing.
Add the chicken stock and simmer for 5 minutes. Turn off the heat and let the soup cool a bit.
Puree half of the soup using a blender or food processor. Pour the pureed soup back into the pot and add the Parmesan and lemon juice to taste. Taste and adjust the seasoning. Cool slightly, transfer to lidded containers and refrigerate for up to five days.
The day of: Reheat gently on the stove over low heat, adding another squeeze of lemon juice. Serve with plenty of crusty bread.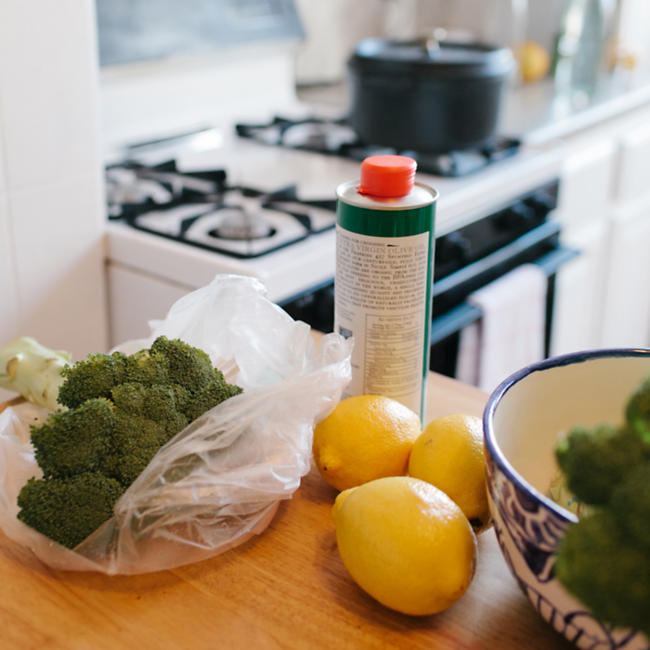 TWO MORE MINUTES WITH AMANDA AND MERRILL
What's one thing that makes a huge impact on a holiday gathering?
Amanda: People are so attuned to childhood memories during the holidays—the lighting, the scents, the flavors. Candles are such an easy way to set a cozy mood. Put them everywhere and use a pine or other wintry candle in the bathroom.
Random: What tabs do you have open on your computers right now?
Amanda: Quanta Magazine, Cedar & Moss, Ad Age
Merrill: Cup of Jo, Business Insider, New Republic, Eventbrite
Thanks, Amanda. Thanks, Merrill.