In Conversation With: Photographer Andre D. Wagner
Posted on Sep 18, 2018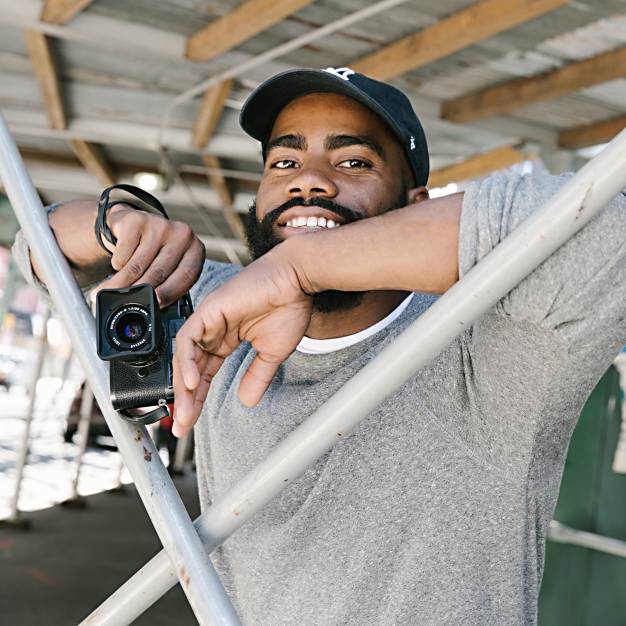 Madewell Men's is here, and to celebrate our new collection, we decided to work with some of our favorite, well, men (makes sense, right?). So our friends over at Wildsam, creators of the coolest travel guides around, visited a few great guys in cities that inspire us. For the final installment, they met up with Brooklyn-based photographer Andre D. Wagner in his Bushwick neighborhood to talk about his work and about why he thinks there's no better place to be a photographer than New York City.

P.S. Want to know Andre's favorite Bushwick spots? Check out his guide to the neighborhood here.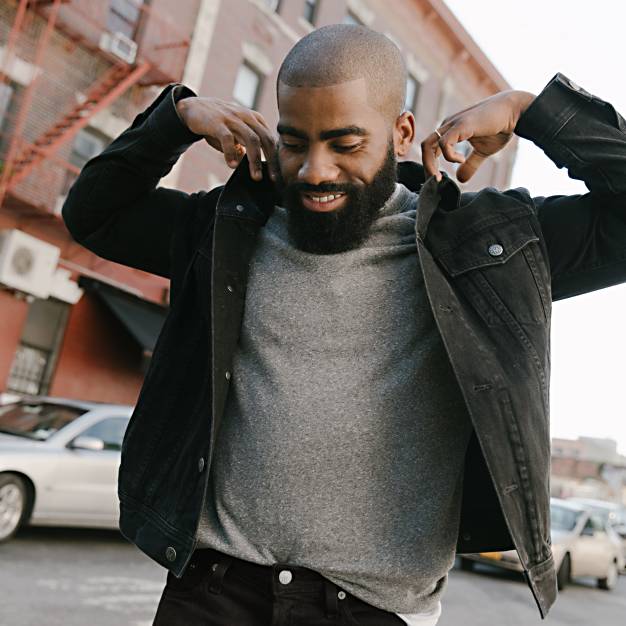 How long have you lived in Bushwick?
For about seven years now. I absolutely love it because it still has this gritty, kind of grungy New York City beat to it. The elevated subway platforms, the bodegas, the laundromats. I know a lot of people in my direct neighborhood, a lot of kids, and it makes Bushwick feel like home.
How does living here affect your photography?
People know me as the camera guy. They see me on a daily basis. So, if I'm there and I see something and pull out my camera, it's not alarming. I might see kids playing on a street corner and, nine times out of ten, they've seen me a million times before. I'm already welcome. I'm just a neighbor who happens to have a camera.
How do you know when to photograph a moment?
It's an intuitive process that almost starts before I pick up the camera. It starts with who I am and what I'm interested in. Then I go out and walk because that's how I see everything. That's the beauty of New York—the content is anywhere and everywhere.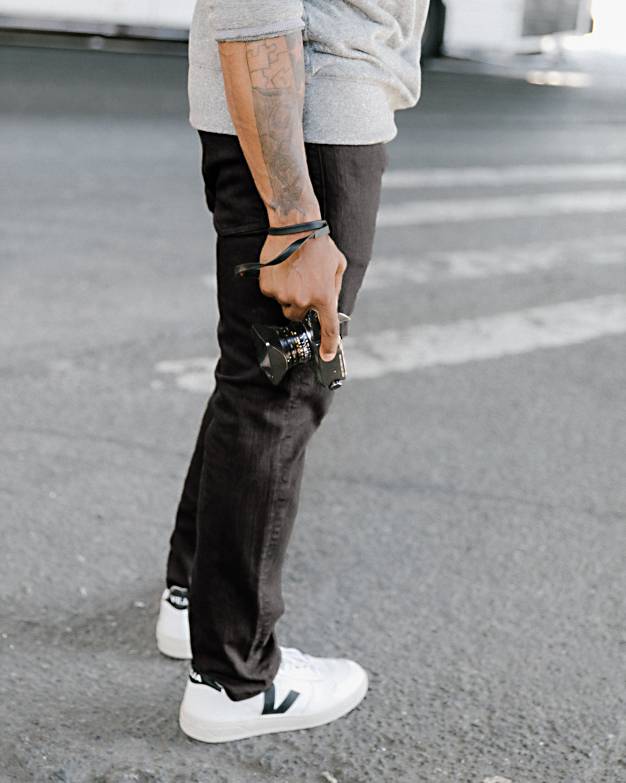 Let's shift gears for a second: What's your approach to getting dressed?
I walk every day, so my style is comfortable and practical. I love primary colors, anything with pockets, and I tend to go for pieces with classic silhouettes that I can re-wear in different ways.
What are some go-to pieces?
A lot of lightweight T-shirts, comfortable sneakers and quality denim. I have to be quite agile, so I need to wear clothing that moves with me and nothing that's too loud so that I can photograph discreetly.
How would you describe your dream pair of jeans?
I hate when I buy denim and two days later there are holes in the thighs. I need denim that's durable and molds to the body, but not too tight. Jeans are what I wear more often than not, so it's important to me that they look versatile enough to wear, whether I'm shooting in my neighborhood in Brooklyn, meeting with editors or making prints in my darkroom.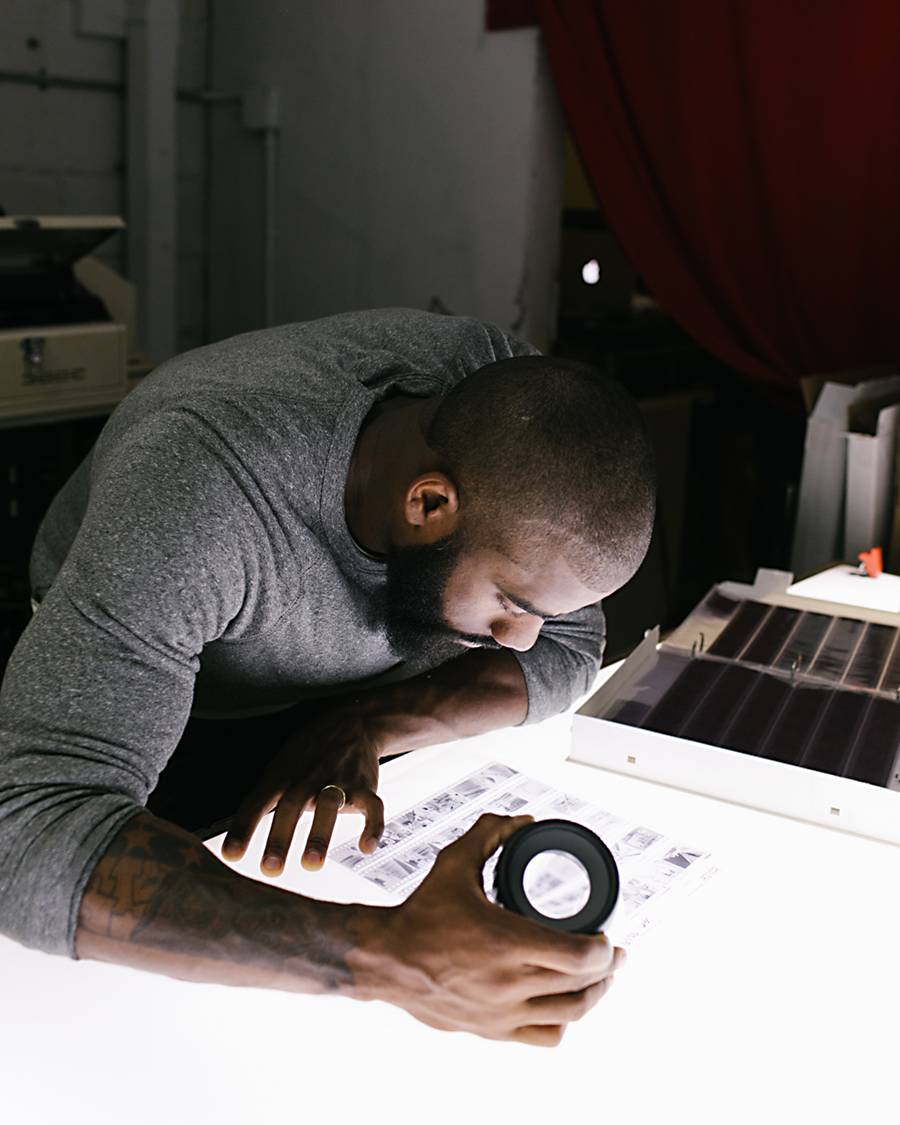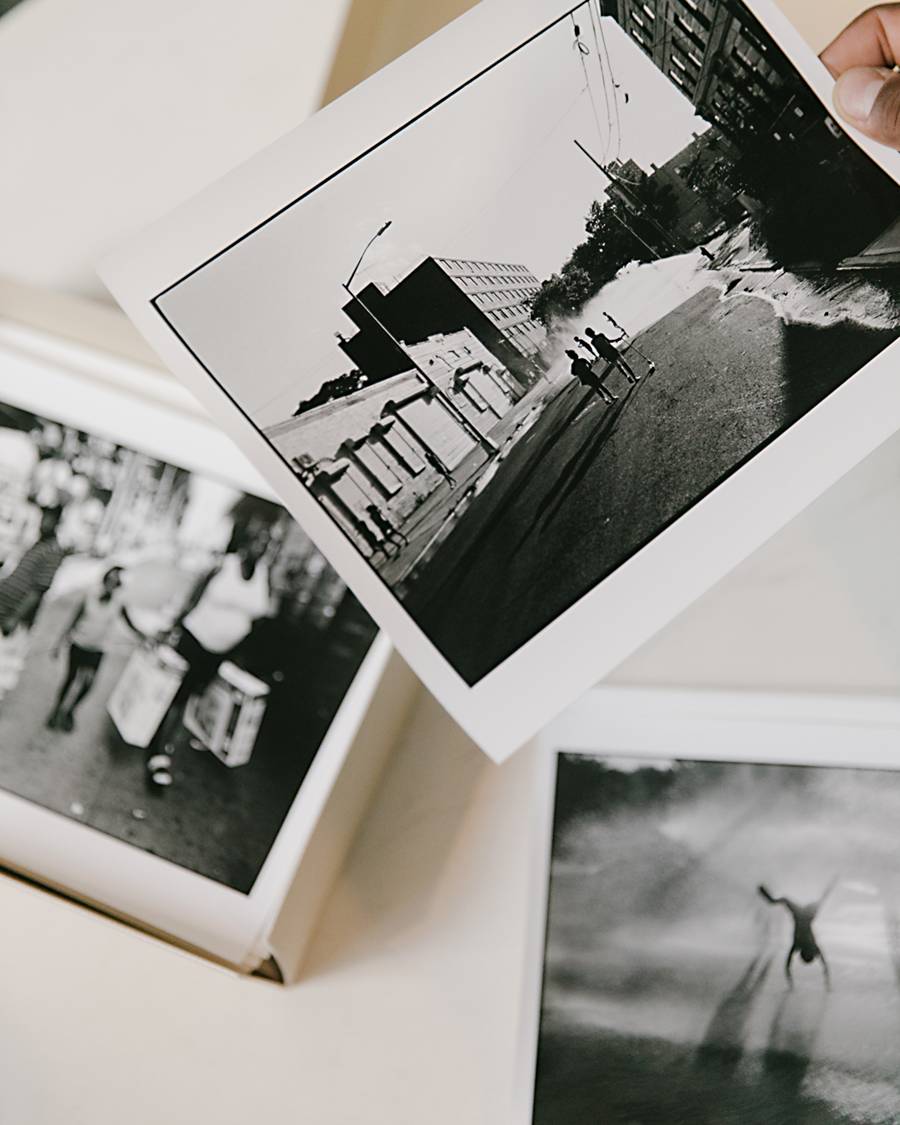 Do you consider yourself a "street photographer"?
It's little bit of a catchphrase. Street photography feels like a sport, and I don't think about my work like that. For me, my photography and my life, it's a continuous thing. This is something that I'm totally committed to. I feel like I'm going to be taking pictures forever—like it's a lifelong practice.
How do you continue to refine your craft?
Growing up, I played a lot of basketball. And one of the things that's carried over from playing is the idea of practice. Sometimes I didn't want to go to the gym and shoot free throws, but that was just part of what you had to do. Even on a day when I'm not feeling particularly inspired, I'll go out and try. It's a muscle memory thing. You've constantly got to work it.
What's the one thing you've learned from the great photographers that you've applied to your own work?
I'm trying to make people feel something through my photography. Photography is special because it freezes time. As we all go through our regular days, we're walking past everything that's happening. For me, when I go out, I'm trying to freeze these moments. When I see two mothers embracing, or I see a father taking his kid to practice, these simple little everyday moments that might seem mundane, I find beauty in them.
It sounds like much more than a job for you.
I feel like I have a responsibility. As a human being, as a young, black male, as a photographer. The way that I move, the way that I just make decisions, how I work with the crowds. When I'm walking Bushwick and there's a lot of young black kids out, I'm a figure for them to look up to. They see somebody doing something different with their life. I'm present. I talk to them. I hang out. I'm not there for a quick picture and then I'm moving on. These are people that I'm invested in. Like I said, this is home.
Looking for your own pair of dream jeans? We've got you.