Top Swim Spots: Where To Wear Your New Suit This Summer
Posted on Jun 28, 2018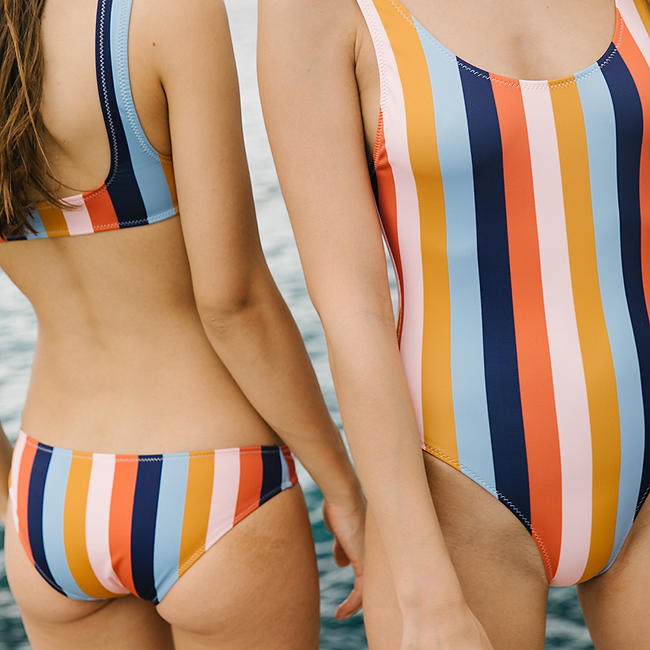 Swimming season has arrived—and new timeless, supercute suits from the swimwear experts at Solid & Striped have us ready to dive right in. Check out our list of favorite places to take a dip across the country (and apologies in advance if we're blowing up anyone's secret spot).
Kaaterskill Falls, Hunter, New York
Since we're New Yorkers here at Madewell HQ, we had to shout-out a personal favorite destination in the Catskills. It's one of the state's highest waterfalls, and the views alone are worth the trip. Make sure to hit up the swimming hole down by the lower falls. Another tip? Save the sandals for your next beach visit. The hike to get to this natural beauty requires shoes with a bit more support.
The Esalen Hot Springs, Big Sur, California
Gorgeous Big Sur views plus baths that have been considered healing for over 6,000 years? We're sold. You can even reserve a slot for night swimming from 1–3am. Oh, and just a heads up—while you might sport your new favorite bikini, others prefer to visit these springs, shall we say, sans bathing suit.
Peterson Park, Northport, Michigan
For those who like long walks on the beach and collecting really cool rocks, this spot is for you. A quiet retreat off Lake Michigan, the park tends to be light on tourists. Plus, it has a couple picnic areas, fire pits and a playground, making it perfect for the whole fam. Make sure to stick around for an epic sunset.
Assateague Island, Berlin, Maryland
Wiiild, wiiild horses couldn't drag us away… No but really, wild horses (and ponies!) roam free on this beautiful stretch of white sand and grassy meadow. About eight miles from bustling Ocean City, it's a little off the beaten path and all the better for it, in our opinion. Spend your day swimming, biking and exploring the nature preserve, then set up camp and sleep under the stars.
Hamilton Pool Preserve, Dripping Springs, Texas
Hamilton Pool is the perfect cool respite from that relentless Texas sun. And aside from being extra refreshing, the grotto is truly stunning—definitely Insta-worthy, but you'll probably be too busy backstroking to snap a ton of pics. Reserve your spot ahead of time, take a quick-yet-scenic stroll down to this hidden gem and enjoy.
Warren Falls, Warren, Vermont
Talk about something for everyone: Warren Falls in Vermont's lush Mad River Valley features waterfalls (of course), pools, a natural waterslide and crystal-clear water all the way through. There's no fee to visit and it's less than a half-mile hike to get to the good stuff—so worth the trip, New England friends.
Go ahead, start planning your next swim-filled adventure. But first, nab a new suit.