This Just In
clothing
shoes, bags &
more
Behind
The Scenes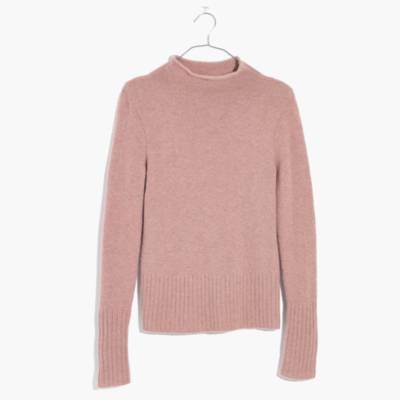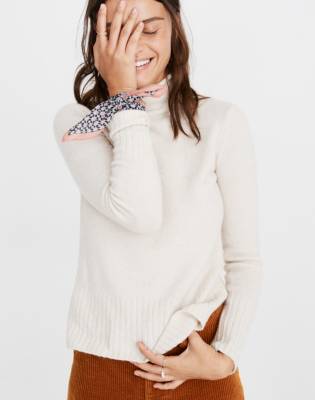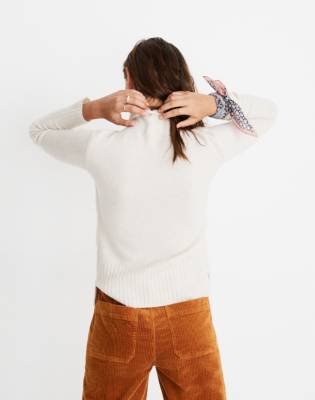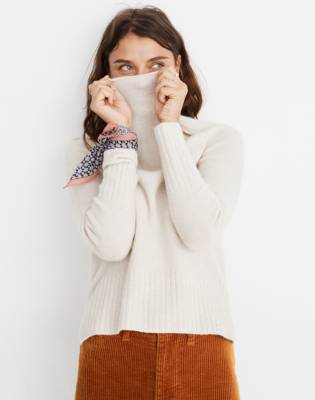 Product Details
So good we brought it back—made of a cozy feels-like-cashmere yarn, this effortless sweater has a subtly rolled turtleneck and cuffing-friendly ribbed trim. Lightweight enough to wear like a shirt, half-tuck and all.
True to size.
Acrylic/merino wool/alpaca/elastane.
Hand wash.
Import.
Inland Turtleneck Sweater
Inland Turtleneck Sweater
is rated out of
5
by
41
.
Rated

5

out of

5
by
MissyK
from
Soft, warm, and hits in all the right places
The mock turtleneck on this and the drape by the hip are really flattering. It's more lightweight than I thought it would be, but it's not a hindrance to the quality of the sweater. I love this because I can dress it up or down.
Date published: 2016-12-22
Rated

5

out of

5
by
Claudia
from
I love my sweater!
I am ver happy with my sweater! Soft and very nice
Date published: 2016-12-14
Rated

5

out of

5
by
ginabina84
from
So soft!
This sweater is so soft -- not itchy at all, and comfortable to wear all day! I got the heather cement color which is off-white/oatmeal and very versatile. It has stretch to it, but holds its shape well.
Date published: 2016-11-18
Rated

5

out of

5
by
anoellea
from
Comfy Staple
This sweater is super comfy and plenty stylish. Will be great with jeans, leggings, pencil skirts, you name it!
Date published: 2016-11-10
Rated

4

out of

5
by
Anjo
from
Cute, but be careful about sizing
I had been checking out this sweater online for a while and finally got to try it on in person. Thankfully I waited to buy it until I did. I am 5'8, 120lb and 34B. I figured I would wear a small, as I usually do in Madewell, but when I tried on the small it didnt fit right. To be blunt, the material is soft and thin and was tight across my chest (I dont have a large chest), which made the rest of the sweater sort of hang below my chest. I eventually sized up to a large, which ended up fitting me like the model. Smaller sizes were very tight across the chest and weirdly baggy across the rest of my body.
Date published: 2016-12-24
Rated

4

out of

5
by
Alexa
from
Hard to hand wash
I really, really do love this sweater. It's super soft & fits me really well. But after wearing it all weekend I decided to wash it for the first time. It took about 40 mins to handwash as it told to do. But it shed the fabric all over my bathtub & I had to use a strainer to collect it so it wouldn't clog my drain. Super unhappy with how it needs care. I wish I could return. I'm so unhappy.
Date published: 2016-11-15
Rated

4

out of

5
by
Julesloves
from
Comfotable
This sweater is so soft and comfortable! I love how it fits and the style. The only thing is that you need to be careful with this sweater because anything pointy/sharp/ rough can easily pull the sweater.
Date published: 2017-02-02
Rated

4

out of

5
by
natjack
from
Practically perfect
One of the best sweaters I've ever bought; super comfortable and the softest material. Only downside is that it pills with repeated wear. Other than that it's probably the best sweater I've ever had. Great fit and style and I get lots of compliments on it.
Date published: 2017-01-24
Rated

4

out of

5
by
Momo
from
Love it but it does have a slight itch
Loved the color, ended up grabbing the grey one on sale too. Guessed on the size, but it's stretchy so it's not a big deal. Its slightly itchy, that does fade after wearing it for a while.
Date published: 2017-01-19
Rated

4

out of

5
by
schweinkin
from
Super comfortable
Love this sweater, very comfortable yet stylish. Wish it would come in more colors, but it's a cozy go-to piece for me, it gets cold in December even in Northern Cal!
Date published: 2016-12-21
Rated

4

out of

5
by
KimmiG28
from
Stretchy & Delicate - cozy Sweater
This sweater is pretty much what I expected! It's fitted without being too tight. I feel like it's slimming for a cozy sweater. It's more of a thin sweater, so it's perfect for layering. As it reads on the tag, it is a delicate sweater. I have yet to wash it, but I am hoping washing it on cold and laying flat will keep it in tact! It looks like it could possibly pill easy if it were touch by Velcro or washed with the wrong material! I wash everything cold and hang anyway! I bought the grey, Kind of wish I would have bought the cream. In this material I bet the cream looks a bit more expensive :)
Date published: 2016-12-14
Rated

4

out of

5
by
BlondeAudre
from
Extremely soft but runs large
It looks like a rather snug fit on the model, which is what I was hoping for, but I found this to run very large. Material is extremely soft, like boucle.
Date published: 2016-11-23
Rated

4

out of

5
by
Keerbergen25
from
Feels like cashmere
Is quickly becoming a favorite. Very soft and comfortable. Bought it in two different colors. I have long arms and I find the sleeves are a little long.
Date published: 2016-11-16
Rated

3

out of

5
by
Lovessweaters
from
Knit pills badly
I LOVE the look of this sweater. But one wearing resulted in pills at cuffs, elbows, sleeves. That and handwashing means I cannot recommend.
Date published: 2016-12-11
Rated

3

out of

5
by
krdckd
from
Soft and warm, but short
The Island Turtleneck (Funnel Neck) Sweater is super soft, very lightweight yet still warm. It fits fairly true to size except the length is WAAAAY SHORT! I am only 5'4" tall and the bottom of the sweater falls just below my natural waist, so no where near the length as shown on the model in the photos. I purchased the cream and the grey colorways online in the same size and the grey was shorter than the cream (right out of the box from Madewell), so length is not consistent for the same item. So far I have washed the sweaters once, followed care instructions and experienced no issues or pilling so far. This item would have been a 5 star it was 2-3 inches longer with consistent sizing.
Date published: 2016-11-29
Rated

3

out of

5
by
acaciah
from
Just Meh
I really wanted to love this sweater but after fussing with it for hours I give up. I bought a small in the cabernet color and a medium in the heather flannel. The sweater fit me shorter than expected and definitely not as long as it appears to be in the model pictures. The fabric is very soft and stretchy, but it's almost so stretchy that it loses it's shape just from being pulled over the head and arms. I typically wear a small to medium and neither size worked for me (I'm 5'7" and 145lbs). The small was too short and fit loose at the hem so it just kind of hung there awkwardly. The medium fit much better in length but then it was too large in the arm/shoulder area and the sleeves were about 4 inches too long. I am disappointed that this one didn't work because I love the way the neck fits and the colors are gorgeous. I'll keep my fingers crossed for a better version next year.
Date published: 2016-12-01
Rated

3

out of

5
by
couchtot
from
Cute and soft BUT....
there's nice little hole right in the front (assuming from where the tag rubbed up against it)... haven't even worn it yet... returning. doesn't seem like it'll survive long if it can't even handle a little wear and tear from the tag! :/ otherwise, fits TTS, the pink is a subdued color, and there's a lot of stretch in it.
Date published: 2016-11-14
Rated

3

out of

5
by
LCloco
from
Had high hopes....
I wanted to love this. It's very soft but the fit is awkward. There is so much fabric under the arms it's almost like a bat wing cut. The picture on the model showed it wearing longer too. Not on me.
Date published: 2016-11-07
Rated

3

out of

5
by
Alex7
from
Cute but poor quality
I love the style of this sweater. Unfortunately the quality is quite poor. Started peeling after first wear. Dry cleaning it helped a bit.
Date published: 2016-12-01
Rated

3

out of

5
by
GreatLeaps
from
Great feel - bad color representation
Really like this sweater - Nice stretch, a little shorter IRL than shown but the pink color was a lightly heathered mauve, more on the brown side than shown on website. Did NOT want that color! Keeping because it's damned comfortable but was not what I was looking for.
Date published: 2017-03-06
Rated

3

out of

5
by
LisaTEsq
from
Pills and pulls
I loved this sweater at the store and the first time I wore it -- but then it snagged, pulled, and pilled. Very thin material and very poor quality. Super soft and slightly oversized and wonderfully comfy, but I can't wear it again because it's in such bad shape.
Date published: 2017-03-02
Rated

3

out of

5
by
StoneFox22
from
Cozy but Pills
Super cozy sweater, runs large as the knit is incredibly stretchy (size down). Not itchy at all, but the fabric pills noticeably on the body and under the arms and quickly at that. Be prepared for it to take on a more textured look.
Date published: 2017-01-11
Rated

3

out of

5
by
Pinkie
from
Good fall sweater
Warm, soft and cozy sweater. Fits a bit snug so ordered a size up so it fit with a little more room on me. Not as stylish as i would like, but a nice enough sweater.
Date published: 2016-11-22
Rated

2

out of

5
by
Fluffle
from
Quality did not hold up
I bought the cream color, and after a couple wears and one wash this sweater is pretty much trashed. It's pills easily and does not hold its shape.
Date published: 2017-01-16
Rated

2

out of

5
by
uwslady
from
Looks awesome but sheds horribly
I got this sweater in two different colors and sizes (xs and small). I'm 5'5", 125 lb, and the x-small is fitted; small is a little more relaxed. The colors and the fit of this sweater are so great, but everywhere I go, there's usually a noticeable amount of lint that is left on sofas and chairs, which is a little embarrassing. Even after washing them a couple times. Also, there is a lot of pilling under the arms and anywhere there's frequent friction. Obviously, I've kept them because the price was reasonable enough, but it's just disappointing.
Date published: 2016-12-08
Rated

2

out of

5
by
Mikeyt07
from
Soft, but pills right away
I was so excited about this sweater that I bought one for myself and one for my mother-in-law. It feels amazing. Unfortunately, I bought it yesterday and after wearing it all today, it looks like I've had it for years. The sleeves are completely pilled up and already look so dingy. So bummed because it fits really well and it the softest sweater ever.
Date published: 2016-12-08
Rated

2

out of

5
by
annageazy
from
Gorgeous, but pills
The color (I got pink) and style of this sweater are spot on. I did not find it ran small, however it is more fitted in contrast to the popular "boyfriend" fit sweaters. My problem is that it is pilling everywhere! I have only worn it once so far (granted all day and moving around quite a bit) and there are pills all over the sweater. I assume it is because the fabric is so delicate and soft, which is ironically what drew me to it originally. I am now afraid to wash it based off of this fragility! Overall: excellent in fit, style, fabric, color, and comfort - but in my opinion not worth it in quality due to pilling.
Date published: 2016-12-01
Rated

2

out of

5
by
ID123
from
Cute and comfy but pills!
As the other reviewers have said...this sweater pills. I've worn it a few times and the chest and sleeves are already pilling. It is so soft and comfortable, and I love how it fits- not too short, not too fitted as some of the other reviews have complained (I got the green, size small) but it's not going to hold up for long. If you can get it on sale and don't mind having to de-pill it, maybe get it, otherwise not worth it.
Date published: 2016-12-22
Rated

2

out of

5
by
BalletLove
from
pills after one wear.
This sweater is extremely soft and warm. It looks nice with jeans or can be dressed up for work but I wore it one day to the office and it was already pilling on the front of the sweater! I can understand the little pills on the sleeves since arms move back and forth during the day, but on the front? I may return if that is possible. Still considering keeping it to lounge around in because it looks too worn already to wear to work again. I don't know how it will look when washed, even by hand as instructed. Not sure if I will keep or not. :-(
Date published: 2016-12-19
Rated

1

out of

5
by
M1ko
from
Cute & cozy, but doesn't last long
I got this sweater at Christmas time and loved how soft it was, but after 2 wears it was pilling everywhere and a hole formed in the front of the sweater before I had ever washed it or anything. I tired to take it to my local Madewell store and they told me it was too "worn" for them to do anything. I'm a Madewell diehard but this one left me disappointed.
Date published: 2017-01-28
Rated

1

out of

5
by
angela
from
Ruined in wash
This was such a beautiful sweater; however, after washing on the "hand wash" and "cold" settings on my washing machine, and then laying to dry it was completely ruined. I followed all of the instructions, but they were extremely misleading. The material stretched out so much that the arms were almost twice as long as they normally were, and the fabric is no longer soft, but is now scratchy. Please don't buy this product if you plan on washing it. It was my favorite sweater before I washed it but now it is completely ruined.
Date published: 2017-01-03