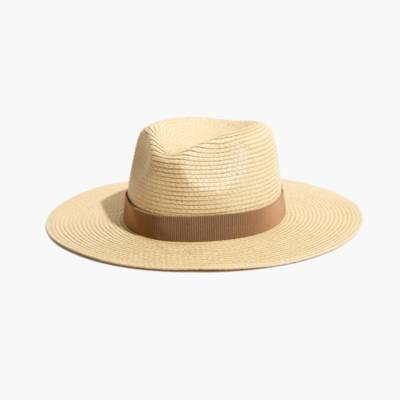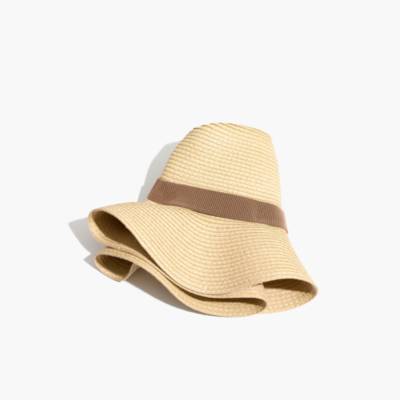 Product Details
A stitched straw hat that rolls up like a dream, with a ribbon band that doubles as elastic to secure it for easy packing. Genius.
Packable Mesa Straw Hat
is rated out of
5
by
18
.
Rated

5

out of

5
by
RainyDay112
from
Perfect Purchase
This hat is my favorite addition to my Spring/Summer wardrobe. love the quality. The bendable brim allows you to adjust it several different ways for different looks. When its not on my head, it easily rolls up and gets tossed into my tote, carry-on or suitcase. Recommend this chapeau highly
Date published: 2017-05-13
Rated

5

out of

5
by
Rumy
from
Perfect hat for summer!
Love the hat! It's so cute!!! Great to have the packable hat for travel.
Date published: 2017-04-18
Rated

4

out of

5
by
AAStyled
from
best packable hat - still a packable hat
This is the best packable hat I've seen so far, but it's still a packable hat. Pros are comfort, the packing/rolling (obviously), the color is nice and I like that the brim is a good size to shade and not floppy. Con is just that as a packable hat it can be hard to reshape the top of it to exactly how you want it, not a huge loss and just something to accept as the price of being able to roll it up!
Date published: 2017-04-19
Rated

4

out of

5
by
Chicago312
from
Great floppy hat!
As others mentioned, this is not a stiff wide-brim hat. It is floppy but still had some structure. Be careful though, do NOT get this hat wet or it will be completely ruined. I accidentally got a little of the brim wet and it ruined it completely so will be buying a new one.
Date published: 2017-04-13
Rated

3

out of

5
by
Kaskanator
from
Great style, packing it ruined it
I loved this hat while it lasted, but once packed it, it was never even close to the same. So that means it lasted only one trip. It is now all floppy and totally off kilter, the brim got creased and the top of the hat is warped. Maybe I missed the memo on exactly how I was supposed to pack it, but I'm super sad that it is pretty much unwearable at this point because I packed this packable hat. That said, if you don't plan to pack this hat, it is super cute and I was planning to live in it all summer!
Date published: 2017-05-29
Rated

2

out of

5
by
trashley
from
band fell off first day of wear
nice hat but the band fell off while i was wearing it and is now lost forever. should have seen the warning signs when i went into the store and none of the hats had bands. kinda terrible because it's a big part of the design and what attracted me to it in the first place
Date published: 2017-07-05
Rated

2

out of

5
by
ShannonS2
from
Not so packable
I bought this before heading to Tulum, and it packed fine on the way there; I was able to reshape it in Mexico no problem. I love the style, and it's very flattering. However, I packed it up for the trip home to Rochester NY, and after a several weeks and many attempts, I cannot for the life of me reshape it. It has creases that just won't go away. Sad. Maybe it's because I packed it up in a humid environment, but this is an overall disappointment.
Date published: 2017-05-21
Rated

2

out of

5
by
JoelleJ
from
Not as it appears
From the picture I thought this hat would look similar to a panama hat with a wider brim. This was not the case. This hat is just a floppy wide brimmed hat. The indentations in the hat were not present. The hat was just not as pictured and not what I was looking for. Styling was not terrible just not flattering. Seemed to be well made and would have been a great hat for shielding the sun had the styling been as pictured.
Date published: 2017-04-09
Rated

1

out of

5
by
Jenna
from
Ribbon band isn't attached
I like the styling and quality of this straw hat. But the ribbon band was not tack onto the hat. As a result I lost the band and now the hat is incomplete.
Date published: 2017-07-17
Rated

1

out of

5
by
tn415
from
Not so packable
I bought this hat for a recent trip to Hawaii. Rolled it up per instructions and packed in my tote bag on my flight there, and took it out as soon as I arrived to find it completely warped. I couldn't reshape it and wasn't even able to wear it during my trip! It's been a few weeks of trying to reshape the hat but the creases are still there... I never even got to wear it! Love everything Madewell, but don't buy this hat if you're looking for something packable.
Date published: 2017-06-10