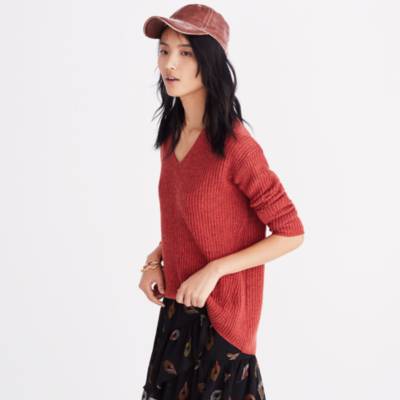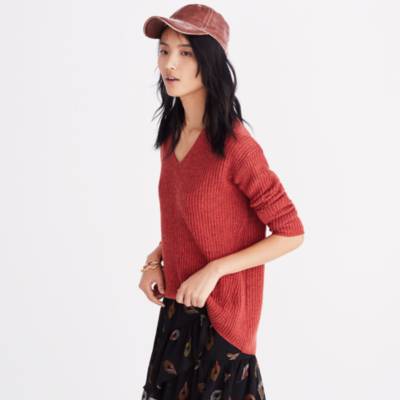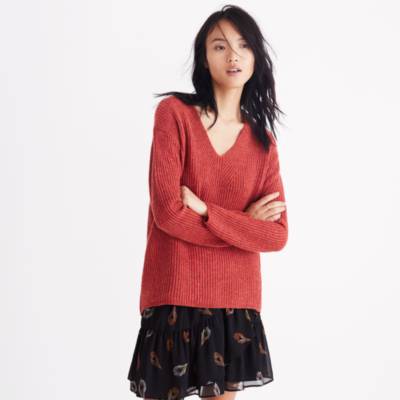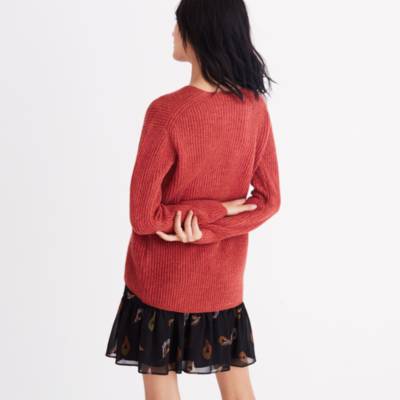 Product Details
Slouchy and relaxed, this easy pullover is lightweight enough to wear as a shirt (the open V-neck is just right for flashing collarbones). Try it half-tucked into high-rise jeans.
True to size.
Merino wool.
Dry clean.
Import.
Woodside Pullover Sweater
Woodside Pullover Sweater
is rated out of
5
by
45
.
Rated

5

out of

5
by
ShibaGirl
from
Absolutely Perfect
My Dad used to have an old worn sweater just like this. I've always wanted one myself. This is it. Only it's not old. I am a size 10-12. I ordered the large, and it fits like the lilac colored one in photos. It is oversized, and longer in the back. It doesn't feel like 'too much fabric'. It feels just like a cozy sweater. I love the gray. I'm tempted to get another because I love it so much. It isn't thick; it has a light weave although it has warmth. It's a keeper.
Date published: 2016-11-29
Rated

5

out of

5
by
tal5041
from
Gorgeous, classic sweater.
I have this in two colors, so you could definitely say that I'm a big fan. It's very warm and perfect for winter. I'm 5'7, 140lbs and usually buy either a S or M in tops, and I got this in a S and it's perfect.
Date published: 2018-02-05
Rated

5

out of

5
by
Junjun93
from
Great V-neck Sweather
I was looking for a V-neck sweater for a long time, I feel it's very hard to find a proper V-neck one because most of them are too deep V for me. This one is definitely perfect, very nice V shape and definitely proper for work. And the red color is just beautiful. It's a very special mix of orange and red. I just love this piece!
Date published: 2018-01-05
Rated

5

out of

5
by
Rani
from
Love it
The fabric is okay but the style is super cute. I love the v neck is not very deep and the camel color is very subtle. It is soft but it is not 100% wool so I wouldn't have bought it if it is no on sale.
Date published: 2017-12-12
Rated

5

out of

5
by
MKayTay
from
Comfy Casual Sweater
I am very pleased with this sweater. It hangs nicely just like on the model. I like that it is slightly large because that is the look I wanted. I am sure I will wear it out because I like wearing it often!
Date published: 2017-12-11
Rated

5

out of

5
by
calbaby
from
Simple Cozy Sweater
I am in love with this sweater. It's easy to throw on and it always looks great. I've already worn it 3 times since purchasing, and each time it has felt as if I'm wearing a blanket. I could see how some people may find it itchy, however I find my skin to be rather sensitive and have no problems with it. My only compliant is that it does slightly stretch out when worn. For reference, I'm 5'8, 130 lbs and typically wear a small and I went with a small in this sweater.
Date published: 2017-12-05
Rated

5

out of

5
by
danarovner
from
so cute but looks terrible on me!
this sweater is so cute but i am built broad so it just makes me look broader. oh dropped shoulders!
Date published: 2016-12-19
Rated

5

out of

5
by
littlechick
from
Soft
Sweater is a little generous, but it's supposed to be that way. Merino wool is very soft and just the right "heft." I ordered the burnished gold color and I love it.
Date published: 2016-12-09
Rated

4

out of

5
by
Oxana
from
Too big for me
I am 5.6" and 127 pounds. I have sweaters from Madewell in size S and XS. I ordered this sweater in blush color. XS was still too big for me. The length and width of sleeves were good but the body of the sweater was way too big at the back. I gave me an unflattering fit. I wonder if the smaller size will be comfortable in the sleeves. I tried the sweater without a layer and unlike some other raters did not find it very itchy but it may irritate the skin if you are sensitive. The color was muted grey-ish pinkish but more into the grey hue. I decided to return it. If I make it to the store and try another size there, I may consider to buy it again on sale.
Date published: 2016-11-29
Rated

4

out of

5
by
ElaineBenes
from
Oversized and warm
SIZING: It's almost TOO oversized. I'm usually a M/L and both the XS and S worked. The S hung like the models shown here: oversized, farther from the body, but not massive. Most people could take one size down from their normal size, maybe two. I didn't notice much difference between XS and S. STYLE: This is so fun and the colors are great. Heather Fog is slightly muddled cream, somewhat beige-toned. The mustard is a vivid, golden color and will look great if you've got dark or olive skin. Shell is a fairly subtle warm-toned lilac color that will read as a neutral in some lighting. FABRIC: Eh, this is a drawback. If you're sensitive, you may find it itchy. Also, Madewell encourages you to handwash these, which will be a dealbreaker for some people too. I didn't find either of these problems enough of a reason not to buy and I expect that the fabric will soften, too. OVERALL: Great vintage-inspired style and the oversized warmth in a great tunic length. Ready for winter!
Date published: 2016-11-08
Rated

4

out of

5
by
julmb
from
love it!
it's exactly what I was looking for: the easy grab and go oversized sweater that you can wear with any pants or jeans and look stylish yet cosy. I'd agree that it's definitely on the large size of oversized but I don't mind, I'm always game for it! The v-neck line is kinda perfect, not too deep but not too high either. I got the lilac color and it's absolutely lovely!
Date published: 2016-11-11
Rated

4

out of

5
by
Jenn
from
Great layering piece
The sweater fits true to size in my opinion, I am normally an XS. I ordered an XS and it fits nicely. The v-neck is not too low. If you're looking for a more slightly oversized look, definitely size up. I'm 5'6 and the length is perfect. I got the camel color, and it's slightly more muted than the picture portrays, however it's still a very nice color. I am quite sensitive to wool, so I do find the sweater slightly itchy, particularly around the arms. It's a great piece to layer with, it's not too bulky. Overall it's a nice sweater if you're not sensitive to wool.
Date published: 2018-02-10
Rated

4

out of

5
by
darby
from
An overall good buy
This sweater is super cozy. The length is perfect and the camel color is amazing. The sweater is a little itchy and it started to pill after the first use. Besides that, it's a really nice feeling sweater and it's very warm.
Date published: 2018-01-16
Rated

4

out of

5
by
stephaniemt
from
Flattering, comfortable sweater - might not last long
I bought this sweater in the brown color and I really like it on me. Many sweaters I've gotten from Madewell are too short on me - I'm 5'9" or 5'10" and they fall at an awkward place - but this one is not! It's a great staple piece, I personally don't find it itchy, it's flattering and warm. My only concern is that the material does not feel super high quality so I don't know how long the piece will last - maybe just for a season or two.
Date published: 2017-12-13
Rated

4

out of

5
by
Californialadytoo
from
Good, rich color
I got this in the rust colorway. I like the slouchy fit of the sweater and am pleased with the rich, saturated color. The wool is a bit scratchy for my skin, though. I kept it mostly because of the color. It's loose enough that it can be worn with a thin tee shirt underneath, as a liner, without getting too warm or bulky.
Date published: 2017-11-29
Rated

4

out of

5
by
Cyndy
from
a good sweater
This is a basic, good, warm woolen sweater, just what I was looking for. I have two of them. They are my go-to every day sweaters. They are shaped well, perfect for layering over a tee-shirt.
Date published: 2017-01-18
Rated

4

out of

5
by
Jessica11Roma
from
Great sweater
I bought this sweater on the holiday sale and am so far very happy with it. True to size with a generous fit. I go between a M and L and was fine with a M in this sweater (and it still fits generously). I can't speak to the pilling yet bc I've only just received it, but so far am very happy with it.
Date published: 2017-01-11
Rated

4

out of

5
by
Kate26
from
Make sure you wash correctly
Make sure that you dry clean only. I did not see the tag that said to dry clean only and I washed it with cold water and it got misshapen. Now one sleeve is longer than the other even though I washed it in cold and it air dried.
Date published: 2016-12-13
Rated

4

out of

5
by
Monmonmelon
from
Cozy & Warm
This was my first wool sweater ever. And I'm glad it was from Madewell! It's SO cozy and warm and soft. It was slightly large on me, and I am 5'3" and 115 lbs. Make sure you're careful while washing - wool shrinks! Luckily it shrunk to a size that fit me, but next time I will take it to the dry cleaners.
Date published: 2016-12-11
Rated

4

out of

5
by
Rany
from
A little thin, but cute!
I just received the sweater, and over all it's really cute! I'm small, 4 10, and got a XXS and it fits perfect for a nice, "baggier" style. The one thing I was eh about was the material. It's knitted out of a lot thinner material than I would have expected from the picture.
Date published: 2016-12-08
Rated

4

out of

5
by
heykellyj
from
LOVE IT but a little scratchy
Style-wise, I LOVE THIS SWEATER. Like really I love it. It's a little scratchy, but not "itchy", so I'm happy with it. Would buy it in every color if it was softer. I am between XXS & XS in Madewell tops (5'5 108), for this both actually fit very well and were cute. The XS is definitely oversized on me but I chose it because I didn't feel like I was quite swimming in it, and because it's a little scratchy, tighter isn't better. Overall very happy!
Date published: 2016-12-04
Rated

4

out of

5
by
HavenMaven
from
soft and good shape
I like this sweater a lot. I disagree with the other reviews that say this runs large, if anything I wish it was a little roomier, as I was hoping for a cozy oversized sweater. This sweater fits just right, has some swing to it and the back falls just at the bottom of your backside. i'm going to try a size up just for comparison before deciding whether to keep it or not.
Date published: 2016-11-12
Rated

3

out of

5
by
skunes
from
Loved it until I hated it
I got this sweater for Christmas in the grey, it is super warm and pretty comfortable, I got it in a medium and loved the fact that it covered my bum (I'm 5'7"). I wore it with leather leggings and it looked so cute. And then I washed it, with cold water and on a delicate setting.. it is now a 3/4 quarter sleeve cropped sweater :( it just looks so odd and the material wasn't particularly great. Not worth the money :(
Date published: 2017-01-24
Rated

3

out of

5
by
sjny500000
from
Nice for cold weather
I like this sweater it has a relaxed vibe and I love the v-neck. However it's slightly itchy. But to others it might not bother them. It runs a little large so I got an xs. I'm 5'3, 105 lbs. Even xs fits loosely. besides the itchiness it's very cute for fall!
Date published: 2016-11-04
Rated

3

out of

5
by
gretag
from
no more than ok
was hoping for something soft cozy and chic...its OK, not great . a bit itchy, and it looks a bit old... don't know how it'll last but quality does not look amazing either...
Date published: 2016-11-14
Rated

3

out of

5
by
Caitlin80
from
great look, but very scratchy material
I ordered this in gray. I love the fit, over sized and casual with a slightly longer length. I like the subtle ribbing and the neckline is flattering. However, after wearing this for a full night the material became really irritating. It was itchy and abrasive. I would have loved this so much more if it were softer. Also, the gray color was much darker in person. I notice that a lot with Madewell, in my opinion, the colors are always represented a little differently online.
Date published: 2016-11-29
Rated

3

out of

5
by
Queenhekate
from
Itchy
I am a medium on the fit chart, ordered a small and it was slightly oversized, which was fine with me. The material was fairly scratchy and cheap-seeming and i was not sure it would soften or feel more luxurious with washing. Also, the heather camel is not a true camel but has an unflattering (for me) yellow-green cast. Disappointed all around, especially since Madewell now uses Borderfree to ship to Canada, which charges significant fees.
Date published: 2017-12-01
Rated

3

out of

5
by
joyousy
from
ok
The style is pretty good but just the material does not look that well.
Date published: 2017-01-02
Rated

3

out of

5
by
LIgirl90
from
Poor fit
I loved this sweater - give it 5 stars for the quality (very light but warm) and color (the crushed chartreuse is gorgeous). I'm 5'9, 150lbs and the small is a nice oversized fit without being overwhelming. However, I gave this a 3 star rating because of the fit on me, hits me weird at the hips and makes me look huge! Unfortauntely this beautiful sweater has to go back.
Date published: 2016-12-11
Rated

3

out of

5
by
Clara007
from
Good staple, not excellent
This sweater is ideal for filling out a wardrobe, the colors are great and it looks nice. But, it's not as soft or well-made as one would want from something at this price and the fit is slightly odd. Great purchase on sale and will be very useful, but not perfect.
Date published: 2016-12-09
Rated

2

out of

5
by
amsies
from
Perfect oversized sweater
I got this sweater in gray and chartreuse. Love the oversized look and style of this sweater. I drycleaned them both together as recommended on the label and the gray one came home fine but the chartreuse shrunk so small I can't even wear it anymore. Such a shame but at least the gray one came back the same. Not sure what happened but sad I didn't even get to wear the chartreuse :(
Date published: 2016-12-17
Rated

2

out of

5
by
tiffknee79
from
Horrible quality
I purchase two of these sweaters and have worn them a handful of times and it already has a ton of pilling. It's not a "soft" sweater either by any means, it has a more rough texture. I would not purchase this sweater again even if it were on sale. I think the pilling makes it look very cheap.
Date published: 2016-12-14
Rated

2

out of

5
by
CajunInNYC
from
Cheap & Unflattering
I had high hopes for this sweater but was very disappointed. Like a lot of items from Madewell, it wound up being awkwardly short and boxy. While the back is a decent length, it's nowhere near as long as shown on the model, and the front looks quite short. I'm 5'6'' and an XS, with an average torso length, so no reason it should fit me like this. The fabric is also cheap and not very soft, and it makes the sweater sit very stiffly on the body. It doesn't look or feel cozy at all. The color also appeared off from the website. I ordered Heather Fog, which is shown as an warm ivory color. The sweater I got was more of a cool off-white color with grey accents. Returning this one...
Date published: 2016-12-13
Rated

1

out of

5
by
mwaddict
from
Very weird fit
Wanted to love this sweater but the fit is really awkward, particularly the arm / upper torso area; there's too much material so that the underarm area bunches weirdly. I'm 5'2" and usually wear an XS in Madewell tops but XS-M all fit really weird for this style. :(
Date published: 2016-11-21
Rated

1

out of

5
by
mytoesinsand
from
EXTREMELY ITCHY
This is just way too itchy. Will be sent back. Color is nice though.
Date published: 2016-12-16